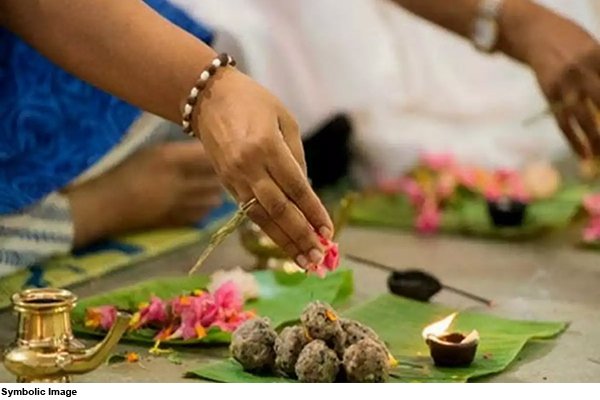 Pitru Paksha is a 16-day ritual performed by Hindus to remember the contribution of ancestors in their lives. The day starts from the full moon day of Bhadrapada month of Ashwin month. This day ends on Sarvapitri Amavasya or Mahalaya Amavasya.
A period of 16 days makes us feel the presence of our ancestors on earth. Various offerings are made to dogs, cows and crows on this day. Before offering prasad, food is fed at the place where puja is performed for our ancestors.
Pitru Paksha 2023: Date and Time
Pitru Paksha is starting from 29th September 2023
Pitru Paksha is ending on 14 October 2023.

Pitru Paksha 2023: Significance
In Hindu Puranas, Pind Daan is performed during Shradh in which the unfulfilled wishes of ancestors are passed on to the next generation. It is believed that the Pind Daan done now ensures their entry into heaven.
Essential things in Shraddha
Tarpan, Pind Daan and Brahmin food, these three things are special in Shradh. Apart from all the necessary things of worship, specially clean utensils, barley, sesame, rice, kusha grass, milk and water are needed for the tarpan. For Pind Daan, rice and urad flour are also necessary along with the things mentioned in the tarpan. On the other hand, for Brahmin food, satvik food should be prepared without garlic-onion and less oil, chili-spice. In which there is definitely grain i.e. rice, so Kheer is made in the Shraddha Paksha.
Arrangement of Shradh for 365 days
Different facilities have been given in the scriptures for the worship of ancestors. In this, there is a system of Shradh from 1 day to the whole year i.e. 365 days. There is a law of Shradh regularly for those who perform Shradh daily, but if they are not able to do it daily due to paucity of time, then 96 days in a year, which includes 12 Amavasya, 12 Sankranti, 16 of Pitru Paksha. days are included. It has been mentioned in which Shradh can be performed. If Shradh is not performed on these days, then it can be done in 16 days of Pitru Paksha. If it is not possible even for 16 days, then performing Shradh on the same day i.e. Sarva Pitri Amavasya gives satisfaction to the ancestors.
Questions Related to Shradh
Why is rice kheer made during Shradh?
Cooked food has special significance in Pitru Paksha. Rice is considered to be Havishya Anna i.e. the food of the gods. That's why only rice kheer is made. Paddy i.e. rice is such a grain, which does not spoil even when it is old. The older it is, the better it is considered. Due to this quality of rice, it is included in the rituals from birth to death.
Why are balls made from rice, barley and black sesame?
Rice is considered the food of the future. Havishya means the one used in the havan. Rice is dear to the gods and ancestors. So this is the first enjoyment. If there is no rice then you can make balls of barley flour. If this is not the case, then you can make a body of black sesame and offer it to the ancestors. All three are used in the havan.
Why is food given to crows and cows in Shradh?
The abode of all ancestors remains Pitriloka and for some time there is also Yamalok. There is a law of Yama Yagya in Pitru Paksha. Yama Bali is offered to the crow as food. The crow is considered the messenger of Yamraj. For this reason crows are given food. All the deities reside in the cow. Because of this, food is also given to the cow.
The 16 Tithis of Shradh – Poornima, Pratipada, Dwitiya, Tritiya, Chaturthi, Panchami, Shashthi, Saptami, Ashtami, Navami, Dashami, Ekadashi, Dwadashi, Trayodashi, Chaturdashi and Amavasya.
When do Shraadh
Your family members die on any one of the above dates, be it Krishna Paksha or Shukla Paksha. When this Tithi falls in Shradh, then there is a law to perform Shradh on the date on which the person died. Shradh is performed only in the afternoon. But apart from this, it should also be kept in mind that according to the rules, on which day, for whom and on which day Shradh should be done?
Shradh of those who die on the full moon day is done only on Bhadrapada Shukla Purnima or Ashwin Krishna Amavasya. It is also called Prashtapadi Poornima. If the death has occurred on the full moon date, then its Shradh can be done on Ashtami, Dwadashi or Sarvapitri Amavasya.
On the death of a fortunate woman, there is a rule that her Shradh should be done on Navami Tithi only, because this date is considered as Avidva Navami in Shradh Paksha.
If the mother has died, her Shradh can also be performed on Navami Tithi. For women whose date of death is not known, Shradh is also performed on Navami. On this day Shradh is performed for the mother and all the women of the family. It is also called Matru Navami Shradh.
Similarly, there is a tradition of performing Shradh for those who take sanyas on Ekadashi Tithi, while the date of Shradh of Sanyasis is also considered as Dwadashi (Twelfth).
Children's Shradh is performed on Trayodashi Tithi of Krishna Paksha of Mahalaya.
On the day of Chaturdashi, those people who have died due to famine or drowning in water, injury to weapons or consuming poison should be done.
There is a tradition to perform Shradh of all known and unknown ancestors on the day of Sarvapitri Amavasya. It is known by the names of Pitruvisarjani Amavasya, Mahalaya Parmanana etc.
Apart from this, those who die on the said date (Krishna or Shukla) should also perform Shradh on the remaining dates. Like Dwitiya, Tritiya (Mahabharati), Chaturthi, Shashthi, Saptami and Dashami.