26/03/2021
PM Modi arrives in Dhaka on 2-day visit, saplings planted on national martyr memorial
Prime Minister Narendra Modi arrived in Bangladesh on a two-day visit to Bangladesh on Friday, his first visit to a foreign country since the Covid-19 outbreak last year. He was welcomed by Bangladeshi counterpart Sheikh Hasina at Dhaka's Hazrat Shahjalal International Airport. "Landed in Dhaka. I thank PM Sheikh Hasina for the special reception at the airport. This visit will contribute to an even stronger bilateral relationship between our nations.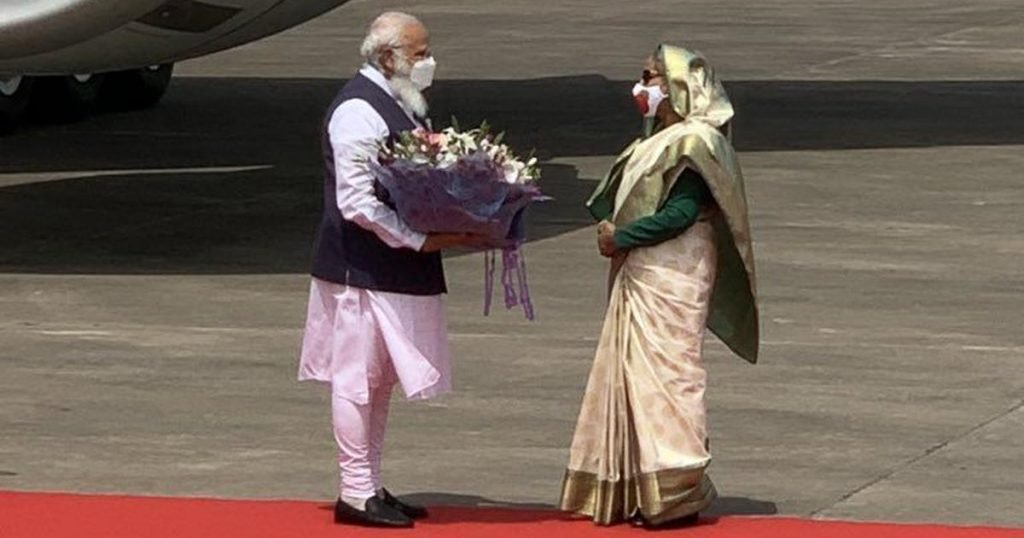 A group of people in uniform: Modi in Bangladesh: PM arrives in Dhaka on 2-day visit, plant martyrs memorial at national martyrs' memorial
The Prime Minister traveled to Dhaka on the newly inducted custom Boeing 777 aircraft. He wore his mask before getting off the plane and enjoying with Hasina. At the airport, Prime Minister Modi was given a salute of 19 guns and a guard of honor.
After arriving in the country, Modi led the National Martyr Memorial at Savar to pay tribute to the martyrs of the 1971 Liberation War. He planted a plant of Arjuna tree on the site and signed the visitors' book there.
After the planting, Modi paid tribute to the martyrs at the memorial, which consisted of seven pairs of triangular shaped walls – each representing an important chapter in the history of Bangladesh, including the 1952 'Bhasha movement' (Bhasha movement) – Through which Bangladesh became a nation independent of Pakistan.
Reacting to Modi's visit, Bangladesh Foreign Minister AK Abdul Moman said that the Prime Ministers of the two countries reached the heights of diplomatic maturity and resolved the most important issues through dialogue and discussion.
"The focus of the journey is celebration. "Bangladesh PM Sheikh Hasina and PM Modi have reached such a height of diplomatic maturity that we are resolving all our important issues through dialogue and discussion," he said, "without a single shot, We are not achieving our goals. " For India, their eastern border is secure due to the strong ties with Bangladesh. For us, the land border was finalized, the maritime border with India was finalized, the Gangetic water sharing was finalized. "
During his visit, Modi will hold "in-depth discussions" with Hasina and participate in the Bangladesh National Day celebrations. He will also meet Bangladeshi President Abdul Hameed and interact with other dignitaries.
"PM Narendra Modi leaves for Dhaka. During his Bangladesh visit, he will participate in a number of events aimed at furthering cooperation with our friendly neighbor, "PMO tweeted, sharing a picture of Modi boarding the plane.
Later on Friday, Modi will attend the National Parade Square as a guest of honor at the function. Bangladesh President Abdul Hameed will be the chief guest at the ceremony, which will be presided over by Prime Minister Hasina. In the evening, Modi is scheduled to jointly inaugurate the "Bangabandhu-Bapu Museum" with his counterpart at the Bangabandhu International Conference Center. He will also attend a state banquet held in honor of Hasina.
On Saturday, Modi will visit the tomb of hu Bangabandhu 'Sheikh Mujibur Rahman at Tungipara in Gopalganj district, the first Indian dignitary to visit the place. He is also scheduled to visit the Jeyeshwari and Orakandi temples in Southwest Shatkhira and Gopalganj on Saturday.
On Saturday afternoon, Modi will hold talks with Hasina at the Prime Minister's Office, where at least five MoUs are expected to be signed and several projects have been inaugurated. Later, he would meet President Hamid at Bangabhavan Rashtrapati Bhavan before leaving for New Delhi in the evening.
Modi's visit comes at a time when Bangladesh is giving birth to Mujib Borsho, the centenary of Sheikh Mujibur Rahman and 50 years of the country's liberation. The two countries are also celebrating 50 years of establishing diplomatic relations.
Earlier on Thursday, the Prime Minister expressed happiness on his visit to the neighboring nation. Modi said, "I am delighted that my first foreign trip since the onset of the COVID-19 epidemic will be with our friendly neighbor, with whom India has deep cultural, linguistic and people-to-people ties."
"My visit will not only be an opportunity to express appreciation for the remarkable economic and developmental progress of Bangladesh under the visionary leadership of Prime Minister Sheikh Hasina, but is committed to supporting India for these achievements," he said.