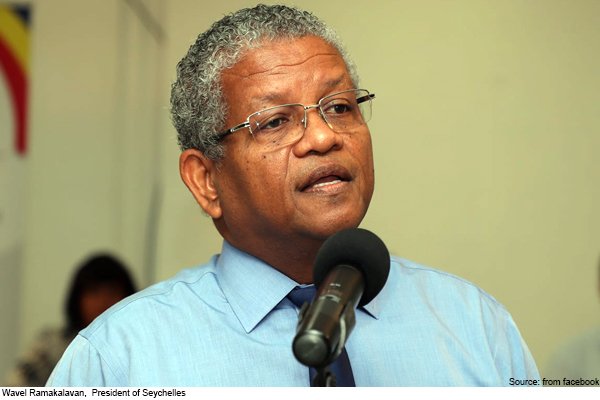 Patna: Wavell Ramakalavan, a resident of Gopalganj, Bihar, has been declared the President of the Seychelles, a country in the Indian Ocean. His ancestors hailed from Parsauni village of Barauli block in Gopalganj district and had gone to Mauritius 135 years ago as a Girmitiya laborer. After this they moved to Seychelles and settled there.
43 years later, a leader of the opposition has been elected President of Seychelles. He has reiterated his resolve to increase the minimum wage to infuse a tourism-based economy devastated by the Corona epidemic. Ramkalavan has its roots in Bihar. He has also been a pastor. Seychelles Election Commission chief Danny Lucas said on Sunday that Ramkalavan received 54 percent of the vote. They have defeated Danny Four. PM Narendra Modi congratulated Wavell Ramkalavan on being elected President of Seychelles.
The outgoing President Forre received just 43 percent of the vote. The East African country Seychelles has a population of less than 100,000. In the presidential election to be held from Thursday to Saturday, 75 percent of the people exercised their franchise. For the first time since 1977, a Leader of the Opposition in Seychelles has been elected President. The United Seychelles Party of Four had been in power for the last 43 years. Ramakalvan's party is named the Linnean Democratic Seselva Party.
Ramakalavan has promised to work closely with Forre. Generally, the transfer of power in African countries does not take place in a normal way. After the victory, Ramakalavan said, "Foray and I are good friends. Election does not mean that contributions to one's motherland cease. He said, no one is defeated and nobody has won this election. This is a victory for our country. When Ramakalavan was giving a winning speech, Fare sat next to him.
Ramkalavan has its roots in Bihar
Ramkalavan's great-grandfather arrived in Mauritius 130 years ago from the village of Parsauni in Motihari district, Bihar, via Calcutta (now Kolkata). Girmitia went to Mauritius 135 years ago as a laborer. After this they moved to Seychelles and settled there. Ramakalavan was born in 1961 in Seychelles. In the year 2018, Ramkalavan Bharatvanshi; came to Delhi to attend the first conference of MPs. Then he also went to his ancestral village Parsauni. At that time he was a member of the National Assembly of the Parliament of Seychelles.
Villagers await Ramkalavan's arrival
There is a wave of happiness among the people of Parsauni village after the news of Ramkalavan being elected President. The villagers expressed happiness over this and said that it is a matter of pride that a descendant of our village has been elected President of a country like Seychelles. The villagers said that now we are all waiting for their arrival.
Also read in Hindi: बिहार के रामकलावन बने सेशेल्स के राष्ट्रपति, पीएम मोदी ने दी बधाई