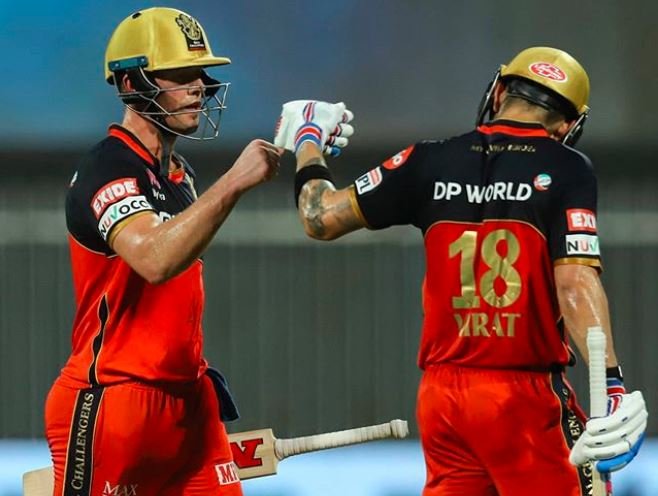 New Delhi: The 28th match of the Indian Premier League (RCB) was played between Royal Challengers Bangalore and Kolkata Knight Riders in Sharjah. Bangalore won the toss and scored 194 runs, losing 2 wickets in 20 overs, and aiming for 195 runs in front of Kolkata. But no batsman other than Shubman Gill could survive in Kolkata. RCB won the match by 82 runs. RCB reached number three in the points table with this win.
RCB scored 194 runs in 20 overs in their first play. Aaron Finch and Paddikkal came into the opening well. Finch scored 47 runs off 37 balls with the help of 4 fours and 1 six. Padikkal played 32 balls, scoring 32 runs with the help of 4 fours and 1 six. RCB captain Virat Kohli, who came after this, was seen playing a bit. In his innings, playing 28 balls, he scored just 1 four and scored 33 runs. De Villiers, who came with him, played a tremendous innings and scored 73 runs with the help of 5 fours and 6 sixes, playing just 33 balls and taking RCB to a respectable score. The condition of Kolkata's bollars worsened today by de Villiers. No bowler could stand in front of him except Varun Chakraborty.
Kolkata's innings, on the other hand, did not start well. Bantone, who was playing the first match at the opening, was dismissed by just 8 runs. At the other end, Shubman Gill tried his best to handle Kolkata's innings. He scored 34 runs off 25 balls with the help of 3 fours and 1 six. But after his dismissal, no batsman could sustain much. Apart from Shubman Gill, only two batsmen were able to cross the double figures. The entire Kolkata team could only manage 112 runs for 9 wickets in 20 overs and lost the match badly. Very good bowling was done today by RCB. All the bowlers bowled fiercely and the Kolkata batsmen did not have any chance to open their hands. Maris and Sundar took 2-2 wickets. The rest of the bowlers got 1-1 wickets and won the match easily due to their all-round performance.
Also read in Hindi: RCB vs KKR: बैंगलोर ने कोलकाता को रौंदा, मैच 82 रन से जीता