17/02/2021
Red Fort violence accused arrested; 'Protesters inspired by his sword waving'
New Delhi: Maninder Singh (Maninder Singh) aka Moni, one of the most wanted accused of Red Fort violence during the Tractor Parade of Farmers on Republic Day Delhi Police) has arrested.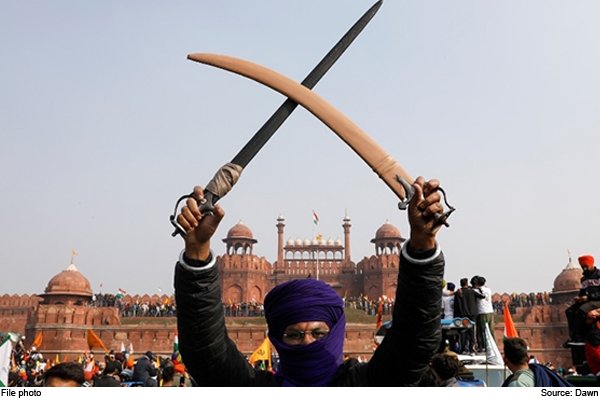 On Tuesday evening, a special cell of Delhi Police arrested Singh from near Pitampura. Maninder Singh, 30, who works as a car AC mechanic, has been arrested under the 41.1 Criminal Procedure Code (CRPC).
Police recovered two 4.3 feet swords from her house in Swaroop Nagar. On 26 January, a video of him waving a sword at the Red Fort was found on his mobile phone.
"The arrested person was seen in a video waving two swords at the Red Fort, who engaged in barbaric attacks on policemen on duty with swords, khandas, iron rods, axes / traitorous elements," the police said in a statement. Was intended to motivate / radicalize / inspire. The historic fort Red Fort was also damaged by these protesters on Republic Day.
Significant scenes were witnessed in many parts of the national capital during the Farmers' Tractor Parade on the occasion of 72nd Republic Day, as a section of farmers forcibly entered the city ahead of a pre-determined time and opposed agricultural laws. During this time, protesters created a fierce situation in the capital. The situation was that the security personnel had to use lathicharge and tear gas to defend themselves. But even then, do not consider them violent demonstrators. There were clashes between police and so-called farmers at various places in the capital, in which hundreds of policemen were injured. The protesters rose up in the national capital and hoisted their religious flags on the domes of the iconic Red Fort.