11/03/2021
Religious organizations united against climate inaction under the green faith
There is no religious tradition in the world that does not ban the destruction of nature. But despite this restriction, governments and financial institutions around the world are exploiting the practice and seeming to have relaxed the space to rein in it.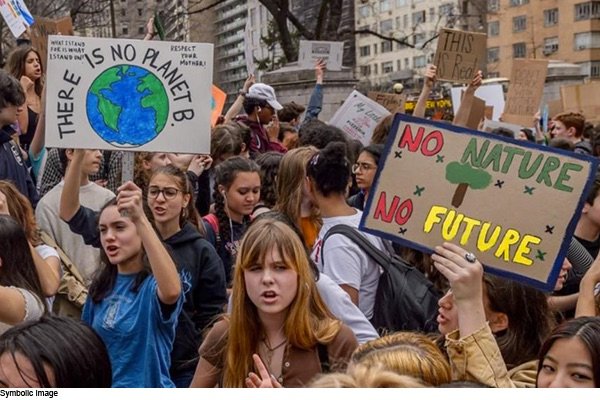 Thea Ormerod, a Catholic evangelical leader who set up a multi-religious organization and the Greenfeth International Network against climate change in Australia said. He further says that all governments and financial organizations are now forcing their religious organizations to inactivate their climate by coming out of the temple, mosque and church to come out on the road and raise their voice against the damage done to nature.
In the same sequence, today, thousands of people, led by organizations and religious leaders active in religious affairs at more than 300 grassroots level in 38 countries under the Greenfeath International Network, ahead of government leaders and heads of other financial institutions, have an ambitious climate in the upcoming COP26 Called for a series of demands.
This largest ever grassroots level multi-faith / religious 'Climate Day of Action' (Climate Action Day) is joined by over 120 religious groups representing over 100 million people. All of these have unitedly sent a clear message to the world that all the leaders globally are not doing enough to overcome the climate crisis.
That is why action is needed to limit global temperature rise and these grassroots activists, concerned with the huge gap between actual climate change commitments by governments and financial institutions, have caused communities around the world to be hit by the climate crisis. Issued a set of influential demands intended to save.
The activity took place in 38 countries including India, including Australia, Brazil, Canada, Chile, France, Germany, Indonesia, Kenya, Nigeria, South Africa, Britain, USA and Vanuatu.
Among the more than 300 religious leaders who publicly supported these demands were Cardinal Peter Turkson of the Vatican; Buddhist writer Joanna Massey; Muslim-American scholar Imam Zaid Shakir; Dr. Francis Kuria, Secretary General of the African Council of Religious Leaders; Rowan Williams, former Archbishop of Canterbury; Dr. Azza Karam and Rabbi David Rosen, General Secretary and Co-President of Religion for Peace (Religions for Peace), respectively; And Swami Chidanand Saraswati, president of Paramarth Niketan.
Some prominent signatories from India include Bhagwati Saraswati, General Secretary, Global Interfaith WASH Alliance, Chidanand Saraswati, President, Paramarth Niketan, AK Merchant, General Secretary and National Trustee, Temple of Understanding India Foundation; Lotus Temple, Waris Hussain, Assistant Secretary, Jamaat-e-Islami Hind, and Dr. Shernaz Cama, Director, Parzor Foundation – Parsi Zoroastrian, are prominent names.
This statement, called Greenpeth, calls for governments and banks to immediately end their support for new fossil fuel infrastructure and tropical deforestation, to commit to universal access to clean and affordable energy, so that Green ( Green) to implement policies to create employment and ensure equitable transition of affected workers and communities, so that policies and funding can be secured to support people forced to relocate due to climate impacts, and so on.
Nana Farman, an Indonesian Muslim activist with Greenfeth, said, "Climate-induced floods, droughts, and wildfires are now a worldwide, everyday apocalypse. There is always one among us who contributed the least to the problem. Ho they suffer the most: racial and ethnic minorities, poor, elderly, young children, women. These demands are ethical parameters by which government or financial sector commitments must be measured."
Members of the Greenfeth International Network noted that as millions lost their jobs and health due to the Kovid-19 pandemic, the fossil fuel industry lobbied (lobbying) to undermine climate and environmental protection. Have received dollar emergency bailout funding. In addition, during the last year in Brazil, governments of the Democratic Republic of Congo and Indonesia, which are home to the world's largest tropical rainforests, have actually made it easier for agribusinesses to speed up logging.
Dr. Ariann Van Andel, coordinator of the Chilean Allianza Interlegiosa y Espiritual por il Clima, stated that, "despite knowing for decades how serious this problem is, the difference between what needs to happen and what is happening." Is morally reprehensible. Fossil fuel development and deforestation continue to increase. Indigenous peoples and environmental defenders face violence when it comes to the truth, while governments and corporations turn their backs. "
This is the first time religious organizations of grassroots level are converging on such a scale with such explicit demands. Here is a snapshot of some planned tasks:
• Across Australia, churches will ring their bells and Buddhist temples will play their ceremonial ceremonies when a public action in which demands the government to end coal development and commit to net zero emissions by 2030 .
• In Minnesota, the United States, more than 200 clergy and religious people will meet on the Mississippi River and demand President Biden to reject the proposed Line 3 oil pipeline, the Dakota Access pipeline, and other fossil fuel projects.
• In Nairobi, a multi-religious youth group will publicly demand Kenya's Energy Minister to end fossil fuel exploration at the national level as well as plant 1,000 trees.
• In Baha'i and Buddhist temples, as well as in Santiago and Chile, Catholic and Protestant churches will ring a bell, calling on their government to end the suppression of climate and environmental opposition.
Francesca de Gasparis, director of the South African Faith Community Environment Institute and founding partner of Greenfeth International Network, said, "The world needs strong, dutiful action immediately. Religious communities have issued statements, edicts, encyclicals and much more on climate change. Now binding legislation is needed. "
The organizers of the Day of Action announced their intention to continue building a grassroots, multi-religious movement and to pressurize governments and financial institutions to deliver COP26 and beyond. The size of the mobilization at the grassroots level, coupled with the clarity and directness of political and financial demands, represents an increase and intensification of religious action on climate change, with direct challenges for anti-climate religious groups.
GreenFlight Executive Director Reverend Fletcher Harper said, "Religious extremists around the world are supporting authoritarian governments and extractive industries that destroy the planet. There is nothing ethical about what these fundamentalist faith groups are doing. Grassroots religious people everywhere are growing to reclaim (reclaim) their religions. "
In this order, hash tags of #Faiths4Climate and #SacredPeopleSacredEarth made considerable headlines on Twitter, Facebook, and Instagram.