02/05/2021
Russian vaccine Sputnik V first batch arrives in India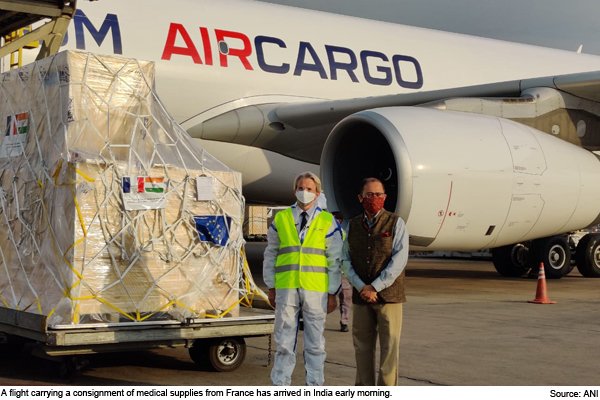 New Delhi: India received the first consignment of Russia's Covid-19 vaccine Sputnik-V on Saturday. The first batch of 1,50,000 doses arrived from Moscow to Hyderabad. Another consignment of the Russian vaccine, three million doses, is coming to India this month. The vaccine will be distributed in the laboratories of Dr. Reddy, who has joined hands with the Russian Direct Investment Fund (RDIF) for the production of Sputnik V in India.
Russian Ambassador to India Nikolay Kudashev tweeted, "Best wishes for the first batch of #SputnikV vaccine given in Hyderabad! Dedicated joint efforts between Russia and India to counter the Covid-19 are underway. This step is particularly important to support the Government of India's efforts to reduce the deadly second wave and save lives. "
Sputnik-V is proving to be quite effective against Covid-19 in the world and the vaccine will also be effective against the new form of Covid-19. Local production is scheduled to start soon and plans to gradually increase it to 850 percent dose per year.
On 13 April, the Drug Controller General of India (DCGI) approved the use of Sputnik V vaccine against the Corona virus in the country. India became the 60th country to approve Sputnik V.
In September 2020, Dr. Reddy's and RDIF formed a partnership to conduct clinical trials of Sputnik, which was developed by Gamalaya National Research Institute of Epidemiology and Microbiology and got the rights to distribute the first 100 million doses in India, later it Increased to 125 million.
The vaccine has been registered in India under the Emergency Use Authorization Procedure based on the results of clinical trials in Russia, as well as positive data for additional phase three local clinical trials in India in partnership with Dr. Reddy's laboratories. RDIF has reached agreements with the country's leading pharmaceutical companies – Gland Pharma, Hetero Biopharma, Panacea Biotech, Stellis Biopharma, Virchow Biotech, aiming to produce more than 850 million doses per year.
(With agency inputs)