07/03/2022
Russia's Top 5 Hot Supermodels Who have built glamorous careers in modeling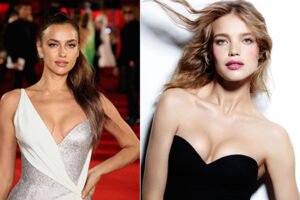 New Delhi: These catwalk stars have forged glamorous careers in modeling, proving that the fashion industry is truly global and knows no bounds. Incredibly beautiful, charming, and confident, they never tire of changing their outfits, hairstyles, and the cities they live in. Today we introduce you to the most beautiful hot supermodels of Russia.
Irina Shayk
With her big green eyes, glowing skin, stunning looks and never-ending legs, Irina is one sexy whirlwind. His father is a miner and mother is a music teacher. She got her first big chance in 2004, when she won a beauty pageant in her native Chelyabinsk. She was 18 years old and from there her modeling career took off.
Natalia Vodianova
Beauty takes attention, but personality captures the heart, Marilyn Monroe said. The same is true with Natalia Vodianova, who is the epitome of elegance, beauty and sympathy. She grew up in poverty in Gorky (now Nizhny Novgorod) with her two sisters, one of them with special needs. In her teens, Natalia was forced to drop out of school to help her mother sell fruit at the market. Luckily, this pretty girl soon joined a local modeling agency and during a show Natalia was spotted by a Viva model management scout. Vodianova signed with the Paris-based agency at the age of 17 and went on to become the breakout supermodel of the 2000s. The Russian beauty graced the covers of all major fashion magazines, strolling the world's leading catwalks.

Alexandra Pivovarova
Sharp cheekbones, a high forehead, almond-shaped eyes and a cold, almost frozen look earned Sasha the nickname 'Alien'. She was born in Moscow and studied art at the Russian State University for the Humanities when she met her future husband, artist and photographer Igor Vishnyakov.
He was the first to see a future top model in him. Igor made several photos of his beautiful girlfriend and sent them directly to the IMG international agency based in New York. Alexandra was chosen to move to Milan, where she walked the catwalk in 2005 for her first Prada show. Impressed by Pivovarova's charisma and professionalism, Italian fashion legend Miuccia Prada immediately signed an exclusive contract with her for three consecutive years.
Anna Vyalitsyna
Some girls are born with sparkle and shimmer in their veins – just a triumphant smile. Anna belongs to a family of doctors. Like her famous compatriot Natalia Vodianova, Vyalitsyna was also born in Gorky (now Nizhny Novgorod) and began modeling by chance at the age of 15. At the age of 16, she was chosen to be the face of Chanel's 'Chance' perfume.
The 5-foot-10 blonde was also featured in ten editions of the Sports Illustrated Swimsuit Issue, becoming the subject of desire of millions of men around the world. The beautiful woman is always a source of inspiration and in 2010, Anna appeared in the Maroon 5 music video for her hit single 'Misri'.
Sasha Luss
Blonde haired, blue-eyed and beautiful, Luce is a beauty queen. Sasha was born in Moscow and dreamed of becoming a ballet dancer. When he suffered an ankle injury, Loos had to bury his dream forever. Sasha's mother then took her 13-year-old daughter to a local modeling agency. She was right, many years later, the young modeling sensation walked her first catwalk show at Moscow Fashion Week.
He cast Luce for his 2012 fashion show. Sasha walked the catwalk for sixty shows in the fall-winter 2013 season for some of the most prestigious fashion brands. Confidence is definitely the most attractive thing a girl can wear, even more so if that girl is a runway star. In 2017, she made her acting debut, starring in Luc Besson's 3-D space opera flick 'Valerian and the City of a Thousand Planets'.