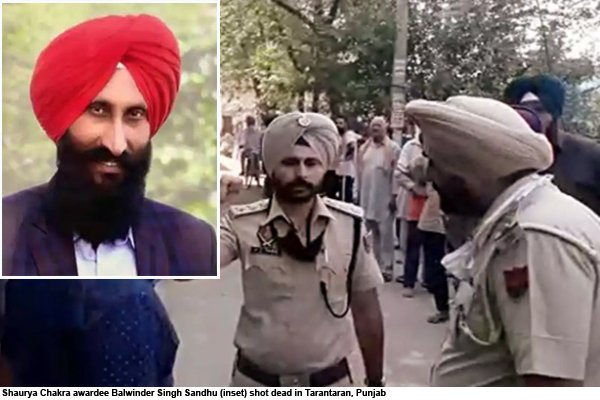 Chandigarh: Shaurya Chakra winner Balvinder Singh was shot dead on Friday in Tarn Taran, Punjab. Two motorcycle riders shot dead 63 year-old Left leader Balwinder Singh at Bhikhiwind, 25 km from Tarn Taran, in Tarn Taran, Punjab. Balwinder Singh was awarded the Shaurya Chakra for fighting against terrorism in Punjab in the 90s. In Bhikhiwind, a town in Tarn Taran, where terrorists were killed, Balwinder Singh had given a tough challenge to Khalistan Commando Force militant Paramjit Singh Panjwad. Balwinder Singh fought the terrorists from 1980 to 1993.
Police said Balwinder, a district committee member of the Revolutionary Marxist Party of India (RMPI), who was on the hit list of terrorist organizations. He was at his house around 7 o'clock in the morning, when 2 people came and killed him by hitting 6 bullets on him.
Balwinder Singh's wife said that his family runs Evergreen Senior Secondary School in Bhikhiwind. As per routine, my husband stepped down from the first floor to open the outer gate. We realized that the shooting took place after 5-7 minutes and found Balwinder lying in a blood-soaked condition at the office near the gate.
In 1990, 200 terrorists took iron alone
In September 1990, Panjwad attacked Balwinder Singh's house along with 200 terrorists. Rocket launchers were also used in this. Paved bunkers were built in Balwinder's house. The terrorists had surrounded Balwinder's house from all sides, all the routes leading to his house were also blocked so that the police and paramilitary forces could not reach the help.
Panjwad had fled in this five-hour encounter and many of his henchmen were killed. All the family members bravely fought the terrorists with weapons like Stengan. After this, Balvinder Singh's name came on the national table. In 1993, on the recommendation of the Ministry of Home Affairs, the then President Shankar Dayal Sharma conferred the Shaurya Chakra to Balwinder Singh, his elder brother Ranjit Singh and his wives.
Continuous attacks on them
When the doors of the police stations were not opened in the era of terrorism, Balwinder Singh used to make a front in his house with terrorists like Panjwad. Panjwad and his operatives attacked Balwinder's house several times from 1980 to 1993. Between 1990 and 93, there were 11 attacks on his house. At the same time, in March this year, Punjab Police had withdrawn the security of Balwinder Singh.
Panjwad is now taking refuge in Pakistan. In such a situation, Balwinder Singh was not killed at the behest of Pakistan's intelligence agency ISI trying to revive terrorism in Punjab. This is a big question in front of the police. Balwinder also wrote a letter to DGP Punjab Dinkar Gupta for the safety of himself and family.
Also read in Hindi: 200 आतंकियों से अकेले भिड़ने वाले, शौर्य चक्र विजेता बलविंदर सिंह की गोली मारकर हत्या