05/02/2021
Steps taken in the budget will give a boost to startups in the country: DPIIT Secretary
New Delhi: Dr. Guruprasad Mohapatra, Secretary, Department of Industry Promotion and Internal Trade (DPIIT), Ministry of Commerce and Industry, said that important steps have been taken to promote start-ups in the 2021-22 budget.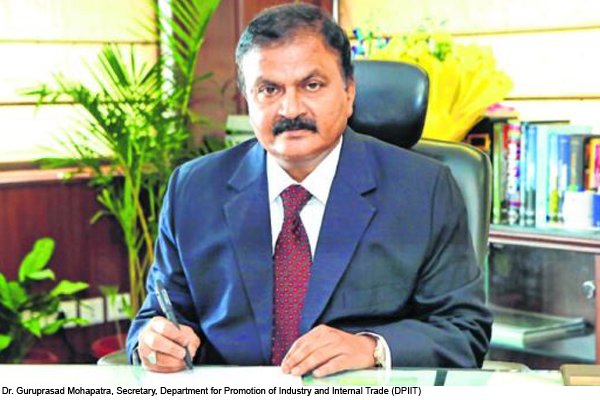 Dr. Mahapatra said that the inclusion of initiatives to encourage One Person Companies (OPC), a one-man company, will directly benefit startups and innovators in the country. The Company Formation Act is being amended to promote OPC companies. Under this, the obligation of paid up capital and turnover for OPC has been removed. Apart from this, OPC companies will also be allowed to convert to other types of companies at any time.
Apart from this, for an Indian citizen, now the requirement of residence in the country has been reduced from 182 days to 120 days for formation of OPC company. Apart from this, NRIs have also been allowed to open OPC in India.
He said that the new amendments would take effect from April 1, 2021. Till now NRIs were not allowed to open OPC. Now any person, who is an Indian citizen, whether resident in India or non-resident, will be allowed to make OPC. The residency requirement for NRIs considered resident in India has also been reduced from 182 days to 120 days. This will help many Indians living abroad to establish business in India.
The DPIIT Secretary said that till now there was a provision to work for 2 years to convert the OPC company into a public or private company. Which has now been abolished. Now any OPC company will be able to convert itself into a public or private company at any time. This step will make it easier for startups to do business and go a long way in boosting their business. Similarly, the paid-up capital and turnover limits have been scrapped. Currently OPC has a provision of paid up capital of fifty lakh rupees and average annual turnover of two crore rupees.
Speaking about the tax benefits for startups, he said that according to the existing provisions of Section 80-IAC of the Income Tax Act, any start-up can get income tax exemption on profits and gains for three years out of ten years of doing his work. is. Under this, start ups should be formed between April 1, 2016 to April 1, 2021. In the budget, this facility has been extended till 31 March 2022.
Similarly, tax exemption has been extended to March 31, 2022 on capital gains on long-term assets under Section 54GB. Currently this facility was available till 31 March 2021 only.
He reiterated that these provisions will help in the development of India's start ups and start ups in the country. A large number of women and men are forming start ups. Apart from metro cities, start ups are emerging in tier-2 and tier-3 cities in India. They will get maximum benefit from the above announcements.
Mentioning about the Credit Guarantee Fund Scheme for start ups, he said that the Government is considering to create a Credit Guarantee Fund Scheme for start ups. And the purpose of the Credit Guarantee Fund for startups is to provide a guaranteed loan to a certain extent for debt related needs.
Member Lending Institution has also been incorporated to provide credit guarantee to qualified startups. The Credit Guarantee Fund for start-ups will be set up with a fund of Rs 2000 crore. It will be able to take advantage of DIPP recognized start ups. Those who will get loans of up to Rs 10 crore from banks, NBFCs and AIFs.
The Credit Guarantee Fund Scheme will be managed by the National Credit Guarantee Trustee Company Limited (NCGTC). Who will serve as trustee of the Credit Guarantee Fund. Through this, around 3000 start ups will be given a credit guarantee of Rs 15,000 crore. Under which, on average, a startup will get a loan guarantee of Rs 5 crore.
The Secretary said that the guarantee given on the loan under the Credit Guarantee Fund Scheme is expected to encourage financial institutions to give loans to startups. This will increase the availability of capital for startups. Innovation, entrepreneurship will be encouraged in the country. So that long-term development and inclusive goals can be met.
Addressing the meeting, Dr. Mahapatra said that the Central Government has approved the Start Up India Seed Fund Scheme (SISFS). The concept of this scheme is to provide financial assistance to startups for prototype development, product testing, market penetration and proof of commercialization. For this, capital assistance of 945 crores will be given to start ups. Which will be applicable for four years from FY 2021-22. The scheme will be for all startups and incubators in the region. For this a common online application form will be available on the start up portal. Apart from this, online applications will also be called for incubators to join the scheme. The incubator selected under the scheme will be given a grant of Rs 5 crore. Which will be given in three or more installments.
A grant of Rs 20 lakh will be given during the acceptance of the concept or prototype development, or product testing. This grant will be distributed in installments. This installment will be fixed on the basis of prototype development, product testing, time frame for manufacture of the product ready for launch in the market, etc. While 50 lakh rupees will be given to reach the market, increase commercial production or production. The convertible debentures will be given through debt and other debt based instruments.