02/02/2021
Strong fortifications on Ghazipur border, cement walls and spikes on the road
New Delhi: Due to the peasant movement, today has been upwards of two months, but the ruckus is not taking its name. Meanwhile, farmers have announced to block the whole of Delhi on 6 February.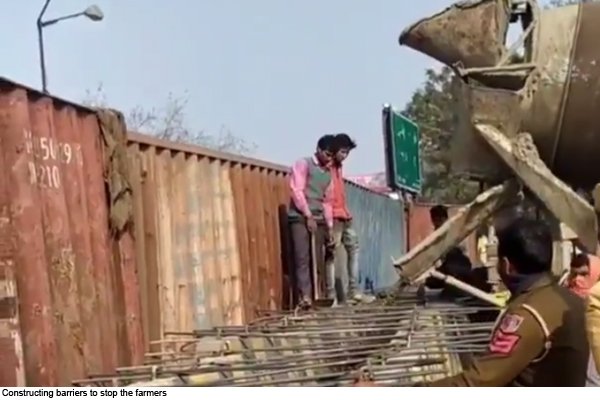 In view of this, Delhi Police is securing the borders. The border has been tightly cordoned off towards Ghazipur. After several layer barricades and barbed wire, the spikes have been hit on the service road of Meerut Expressway. Due to this, foot movement between Delhi and Ghaziabad has also stopped. Although this has created problems for the common man, the drivers are wandering here and there due to the closure of the road.
Taking lessons from the violence on 26 January, the police and administration are more alert than ever. To prevent a recurrence of an event like Republic Day, it has been determined that such an incident does not happen again. The police are seen making every effort to stop the protesting farmers at Singhu, Tikri and Ghazipur.
On Monday, a picture of some policemen wearing armor-like dress went viral on social media. Policemen have been given for these steel batons and armor trials after more than 500 security personnel complained of injuries to their hands while overhearing protesters on Republic Day. However, it has been clarified that their use is yet to be approved and testing is being done in only a few places. A policeman said, "We will not use them until our senior officers order us.
The number of farmers is increasing again on the Ghazipur border. People from various organizations are reaching out to support the movement. The security has been tightened by the Delhi Police following the increasing movement of farmers and the violence on 26 January. All the lanes of Meerut Expressway Delhi have been closed since two days. Many layer barricades were put up in these two days. They all have barbed wire.
Delhi Police has also put spikes on the road coming from Ghazipur towards Dabur Tirahe. This has also stopped the movement of foot. Common people are facing problems due to the closure of all roads. Many drivers could not go to Delhi. Some drivers said that most of the borders of Ghaziabad are closed. Almost all the routes from Ghaziabad to Delhi have been blocked by the police.
On one hand, where the Delhi Police is engaged in strengthening the security cordon. On the other hand, the number of police has been reduced towards Ghaziabad. However, the number of policemen in plain clothes has been increased so that they can monitor every movement of farmers.
Farmer leaders are angry over the strictness of Delhi Police. Farmer leaders told the forum that their picket will continue in peace. He alleged that the police are putting barbed wire and nails so that ration, milk and other essential items cannot reach us at the picket.