10/02/2022
Supreme Court dismisses the petition to transfer the case to the Supreme Court; Pakistan summons India's top diplomat
The Supreme Court dismissed the petition to transfer the matter to the apex court; CM Bommai will decide to close the school, college CM Bommai will decide to extend the school, college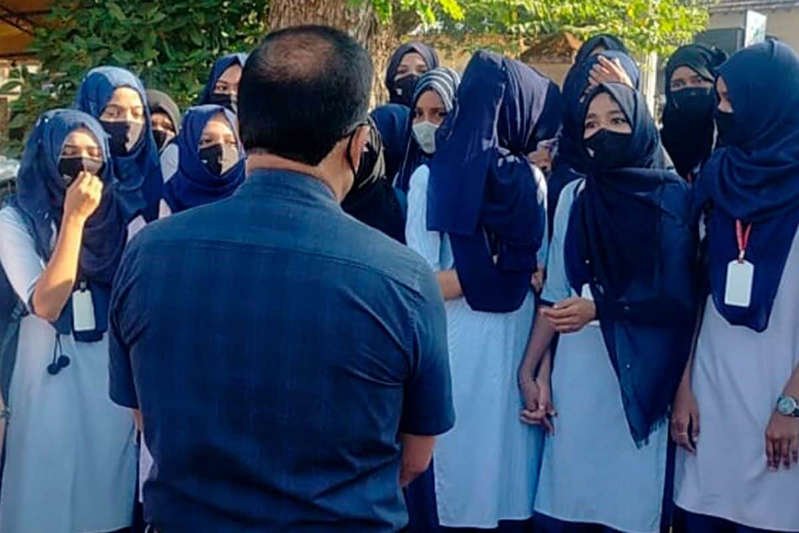 Pakistan summons India's top diplomat to Islamabad over hijab controversy in Karnataka
Educational conditions were ordered to remain closed on Wednesday after the hijab controversy turned violent in Karnataka and a full bench of the High Court held protests in support of the religious practice on petitions challenging the ban on headscarves. Will hear Split in some other states. Meanwhile, Pakistan summoned India's top diplomat in Islamabad over the hijab controversy in Karnataka.
As the BJP and Congress took a fresh look at the hijab controversy, the single judge of the Karnataka High Court observed that certain aspects of personal law contained constitutional questions of fundamental importance and referred the matter to its chief justice.
Chief Justice Ritu Raj Awasthi on Wednesday night constituted a full bench of Justice Krishna S Dixit and Justice JM Khaji to probe the matter. The matter will come up for hearing on Thursday.
Justice Dixit, who was hearing a batch of petitions against the hijab ban in classes filed by Muslim students of Udupi district since Tuesday, said earlier in the day that these cases raise certain constitutional questions of fundamental importance in view of certain constitutional issues. .
"Given the enormity of the questions of importance which were debated, the court is of the view that the Chief Justice should decide whether a larger Bench can be constituted in the matter," he said.