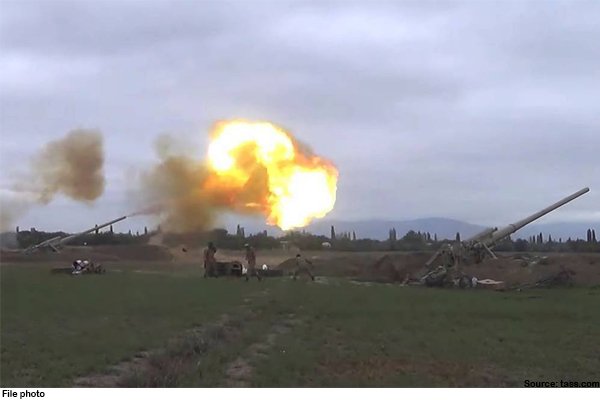 New Delhi: On one side, the entire world is fighting the corona virus epidemic. On the other hand there are some countries which are thirsty for each other's blood for a piece of land. Let us know that in the midst of corona crisis, world war can also start at any time. According to Zee News, tensions between neighboring countries continue in 4 places in the world. The largest battleground remains near Russia, where Armenia and Azerbaijan are thirsty for each other's blood. There is a fierce war between the two countries, in which missiles, cannons, tanks are being used. Muslim-majority Azerbaijan has even started a drone attack on Armenia.
Tension in these countries
While there is a face-to-face battle in Armenia and Azerbaijan, there are few other countries in the world where tensions over border disputes are increasing. The escalation on the India-China border dispute is increasing. Here, tensions between Saudi Arabia and Iran have also increased. At the same time, Russia can also take major action against the conspiracy of Pakistan and Turkey. Apart from this, there has also been a growing trend in China and Taiwan.
War fears between Saudi Arabia and Iran
Saudi Arabia has arrested 10 Iran terrorists, following which there is a fear that a war between Saudi Arabia and Iran may break out. On the other hand, tensions on the Ladakh border between India and China do not seem to be diminishing. On the contrary, tensions have been heightened by China's conflicting statements.
Azerbaijan is drone attack
Russia and Turkey are also expected to join the war of Armenia and Azerbaijan. On the one hand, Turkey has announced to support Azerbaijan, on the other hand Russia can attack Azerbaijan at any time in support of Armenia. Let us know that a war is going on between Armenia and Azerbaijan since Sunday over the mountainous region of Nagorno-Karabakh. While many of Azerbaijan's tanks have been destroyed in Armenia's missile attack, Azerbaijan has also claimed great damage in retaliation.
Danger of world war
Azerbaijan is using drones purchased from Turkey for the attack. It is known that Azerbaijan bought TB2 drone from Turkey. It is capable of long range attack by flying at medium altitude. By the way, not only drones but also cannon, tanks, rockets and fighter jets are being used in the war between the two countries. This war of Armenia and Azerbaijan is gradually taking a terrible form, in which different countries of the world stand up in support of both countries. Due to which the risk of this war spreading to the whole world has increased.
Nuclear weapons threat
Armenia has threatened Azerbaijan that it could attack Russia's deadliest missile equipped with nuclear weapons. The ballistic missile named Iskandar Missile is unmistakable. The domestic version of the missile has a range of 400 km and can carry 700 kg of explosive material. It is also capable of dodging radars, as well as demolishing targets while protecting itself from enemy missile attacks.
Also read in Hindi: Worldwar का खतरा! 4 देशों के बीच चल रहा सीमा पर तनाव, अर्मेनिया और अजरबैजान में जारी खूनी संघर्ष