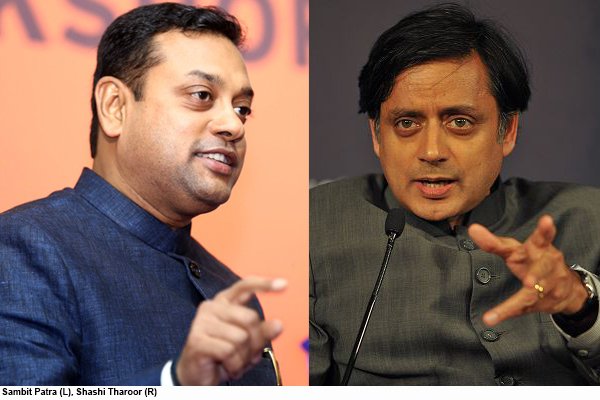 New Delhi: Congress MP Shashi Tharoor has put his own party in trouble by making a statement that he insults India on the Pakistani media about the corono virus epidemic. The controversy seems to have increased after Tharoor's 'anti-national' statement. The Bharatiya Janata Party (BJP) has surrounded the Congress for Tharoor's statement. The BJP has raised the question whether Rahul Gandhi wants to contest elections from Pakistan. BJP spokesperson Sambit Patra addressed Rahul Gandhi as 'Rahul Lahori'.
Congress MP Shashi Tharoor has insulted India in front of Pakistani media over the Corono epidemic. Tharoor described India's situation in Corona case as worse than Pakistan. Tharoor said that we are jealous of Pakistan for dealing with Corona better. Shashi Tharoor described Tablighi Jamaat as a victim in India. Shashi Tharoor was involved online in a program called Lahore Think Fest and during this event he said that discrimination during the Corona epidemic has increased. Shashi Tharoor made fun of his country. BJP has become an attacker after the statement of Shashi Tharoor. Not only Shashi Tharoor, BJP also surrounded Rahul Gandhi on this issue.
BJP spokesperson Sambit Patra has said, "The statement that Tharoor has made is not believing that how can any Indian MP, Rahul Gandhi's right hand make fun of such a platform in his country?" Patra said Tharoor was critical of the steps taken by the Indian government during the Corona virus period and praised Pakistan. Tharoor is saying that the people of northeast are not treated well in India, while Tharoor states in another statement that there is no democratic country like India.
On Tharoor's love for the Tabligi Jamaat, Patra took a dig and said that he sees bigotry here. Sonia Gandhi, Rahul Gandhi even once questioned the atrocities on minorities happening in Pakistan? Tharoor quipped that Congress wants to contest elections in Pakistan? Patra said on Tharoor's statement, Rahul is raising his voice against all these things, but he is not being heard in India, questions arise on who will listen to him. He said what was the need of making such statements in Pakistan. Tharoor has called Rahul Gandhi the 'hero' of China and Pakistan.
This is why Imran Khan used Rahul's anti India tweet against India at the United Nations. Sometimes it is wrong to remove Article 370 of Chidambaram, sometimes Adhir Ranjan calls it a bipartisan case. Taking a dig at Rahul Gandhi, Patra said that if he wants to contest elections in Pakistan, his first rally should be held in Lahore. From today I will call him 'Rahul Lahori' and not Rahul Gandhi. Patra says that if this continues in this way, the Indian National Congress will soon become the Congress 'Pakistan National Congress'. He said that both Rahul and Farrukh are one bag.
Explain that behind the controversy are the statements given by Shashi Tharoor at Lahore Think Fest. Tharoor said in front of Pakistani media that India has worse conditions than Pakistan. According to Tharoor, Pakistan is dealing with Corona virus better than our country. Not only this, Tharoor has also taught the Tablighi Jamaat from the platform of Pakistan and said that Muslims and people of North East are discriminated against in India.
Also read in Hindi: भाजपा ने थरूर के 'पाकिस्तान प्रेम' पर कांग्रेस को घेरा, राहुल को बताया चीन-पाक का 'हीरो'