21/01/2021
The 24th 'Hunar Haat' will be organized in Lucknow on the theme 'Vocal for Local'
New Delhi: The 24th "Hunar Haat" was organized by the Union Ministry of Minority Affairs to provide opportunity-market to the indigenous products of artisans-craftsmen of the country with the theme "Vocal for Local", Awadh Shilpgram, Lucknow (U.P. ) Is being done from 22 January to 04 February 2021.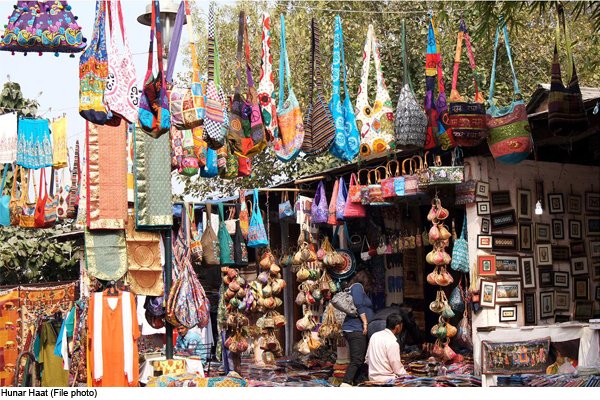 Around 500 skill masters are joining the indigenous products of artisans, craftsmen from 31 states/union territories of the country. The "Hunar Haat" will be formally inaugurated by the Chief Minister of Uttar Pradesh, Mr. Yogi Adityanath Ji on 23 February 2021.
"Hunar Haat" was inaugurated by the Minister of Minority Affairs Shri Mukhtar Abbas Naqvi; Deputy Chief Ministers of Uttar Pradesh, Mr. Keshav Prasad Maurya and Mr. Dinesh Sharma; Mr. VK Saxena, Chairman, Khadi and Village Industries Commission; Finance Minister of Uttar Pradesh, Mr. Suresh Khanna; Minister of Khadi and Village Industries, MSME, Mr. Siddharth Nath Singh; Urban Development Minister Mr. Ashutosh Tandon; Minister of Civil Aviation, Minority Welfare Shri Nand Gopal Gupta "Nandi"; Minister of Legislative-Justice Shri Brajesh Pathak; Women Welfare Child Development Minister, Mrs. Swati Singh; Water power will be done in the presence of Shri Baldev Singh Aulakh, Minister of State for Minorities and Minister of State for Minority Welfare, Muslim Waqf, Haj Mr. Mohsin Raza.
The "Hunar Haat" of Lucknow includes Andhra Pradesh, Assam, Bihar, Chandigarh, Chhattisgarh, Delhi, Goa, Gujarat, Haryana, Himachal Pradesh, Jammu and Kashmir, Jharkhand, Karnataka, Kerala, Ladakh, Madhya Pradesh, Manipur, Meghalaya, Nagaland, Odisha, About 500 skilled masters are joining 31 states / UTs including Puducherry, Punjab, Rajasthan, Sikkim, Tamil Nadu, Telangana, Uttar Pradesh, Uttarakhand, West Bengal.
The "Hunar Haat" of Lucknow includes artisans/craftsmen of the country, Azrakh, applique, art metalware, tiger print, baati, Banarasi saree, bandhej, Bastar herbs, black pottery, block print, cane products, chikankari, copper bell, Indigenous handmade luxurious products of dry flowers, Khadi products, Kota silk, lac bangles, leather, Pashmina shawls, Rampuri violin, wood-iron toys, kantha embroideries, brass products, crystal glass items, sandalwood, etc. Have been brought for display and sale.
People coming to Lucknow's "Hunar Haat" will also enjoy the traditional cuisine of the country, while various cultural programs presented every day by renowned artists of the country will be the center of attraction. "Hunar Haat" will feature lyric music programs by eminent artists every day on the theme "Self-reliant India". Famous artists in these programs such as Kailash Kher; Vinod Rathore; Ms. Shibani Kashyap; Bhupendra Bhupi; Mirza Sisters; Prem Bhatia; Rekha Raj; Hamsar Hyatt Group; Mukesh Pancholi etc. will present their programs.
Lucknow's "Hunar Haat" e-platform is also available on http://hunarhaat.org for people abroad, where people are directly viewing and buying indigenous goods of artisans, artisans, artisans.
The "Hunar Haat", being organized in various places of the country, is proving very encouraging and profitable for artisans, craftsmen. On the one hand, "Hunar Haat" attracts millions of people, on the other hand, people also make huge purchases of indigenous products of crores of rupees, artisans, and craftsmen. Through the "Hunar Haat", more than 5 lakh artisans, artisans, artisans, and their people have been provided employment and employment opportunities in the last nearly 5 years. The "Hunar Haat" has further strengthened and recognized the heritage of craftsmanship, craftsmanship, which is famous for every corner of the country.
In the coming days "Hunar Haat" will be organized at places like Mysore, Jaipur, Chandigarh, Indore, Mumbai, Hyderabad, New Delhi, Ranchi, Kota, Surat / Ahmedabad, Kochi, Puducherry, etc.