10/06/2021
The first solar eclipse of 2021 today, know where it will be visible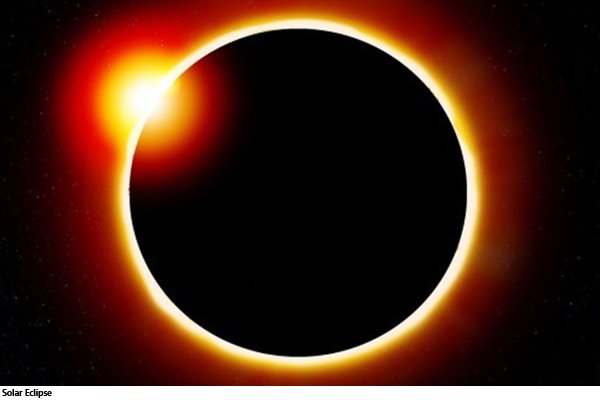 New Delhi: The first solar eclipse of this year will take place on Thursday and will be visible to people in the Northern Hemisphere, according to the National Aeronautics and Space Administration (NASA). NASA describes a solar eclipse as an astronomical event that occurs when the Sun, Moon, and Earth come in a straight line. On the day of this solar eclipse, the sight of the Ring of Fire will also be visible in many countries around the world. During this eclipse, the Moon's shadow completely covers about 94 percent of the Sun. Therefore, during this time the sun is seen shining like a diamond ring. In scientific language, it is called Ring of Fire.
Let us tell you that the solar eclipse will be visible only in some parts of Arunachal Pradesh and Ladakh in India shortly before sunset. MP Birla Planetarium Director Debiprasad Durai said that the solar eclipse will be visible only from parts of Arunachal Pradesh and Ladakh in India.
According to NASA, the eclipse will be visible only in some areas, while in other regions it will be partial. The space agency has said that Russia, Greenland and Canada will see a 'Ring of Fire' or, in other words, a total solar eclipse, while the eastern United States and Alaska will see only a partial eclipse. Parts of North America, Europe, Asia, North Africa and the Caribbean will also see a partial eclipse.
In India, it will be visible only to the people of Ladakh and Arunachal Pradesh. It is scheduled to start here at 1.42 pm and end at 6.41 pm. The peak time will come around 4.16 pm, when both the Sun and the Moon will conjunct Taurus at exactly 25 degrees.
NASA will live stream the eclipse on NASA. It can also be viewed on YouTube, courtesy of Luke Bollard of the Royal Astronomical Society of Canada Sudbury Center. NASA has also issued some precautions that should be taken while watching the solar eclipse. These are available on its official website.
Read in Hindi: Solar Eclipse: 2021 का पहला सूर्य ग्रहण आज, जानिये कहां-कहां दिखाई देगा