10/03/2021
The video of Shaheen Afridi dismissed by Shahid Afridi which gone viral with the song 'Suno Sasurji'
Shaheen Afridi's father Ayaz Khan reportedly told media officials that he had sent a marriage proposal to Shahid Afridi's family and it was accepted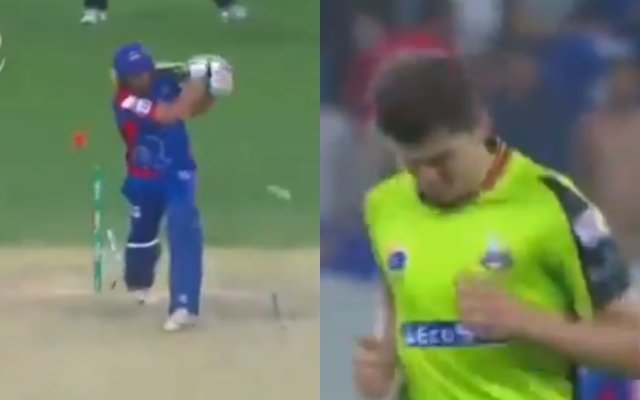 Former Pakistan cricketer Shahid Afridi and famous pacer Shaheen Afridi are likely to become relatives as it is revealed that Shaheen's family approached Shahid to marry their daughter Aqsa. While several news portals suggested that the proposal had been accepted, Shahid stated through his tweet that nothing had been confirmed yet and negotiations were still on.
sound on🔊#ShaheenAfridi #ShahidAfridi pic.twitter.com/ExRtP43UEx

— Zakria (@Zakr1a) March 6, 2021
Shaheen Afridi's father Ayaz Khan had allegedly told media officials that he had sent a marriage proposal to Shahid Afridi's family and it was accepted. He further added that things will be officially done after two years as Afridi's eldest daughter Aqsa is still studying, while Shaheen's career is also in the building phase.
Itisham-ul-Haq, a Pakistani journalist, later confirmed this on Twitter. "With the permission of the two families, I would like to clarify the rumors of engagement between Shaheen Afridi and Shahid Afridi's daughter. The proposal has been ACCEPTED; It is thought that there will be a formal engagement within 2 years after completion of their education, "he wrote on Twitter.
After all the beliefs and declarations, Shahid finally decides to reveal the truth that nothing has been confirmed yet and if God wills, things can go ahead. Social media goes crazy after Shahid Afridi's tweet on the matter
"Shaheen's family contacted my family for my daughter. The two families are in touch, the match is made in heaven if Allah desires that the match be made as well. My prayers are with Shaheen for her continued success in the field, "read her tweet.
Although Shahid Afridi clarified that nothing is official, the big announcement sent social media sites into a frenzy as Twitter was flooded with congratulatory messages for both families. Also, many fans were elated to congratulate the cricketers.
Meanwhile, a fan shared a video, in which both Shaheen and Shahid can be seen playing alongside each other in PSL games. In the clip, the veteran hit the 20-year-old for a six but Shaheen was able to lift the stumps of the batsman on the next ball. The highlight of the video was the user-added background song, 'Suno Sasurji Ab Jid Chhodo' from the Bollywood film 'Dulhe Raja'. The clip soon went viral on social media with many people sharing it.