25/01/2022
Thousands of year old Panchmukhi Hanuman temple in Pakistan, the wishes of the visitors are fulfilled
There is about 17 lakh years old Panchmukhi Hanuman Temple in Karachi, the largest city of Pakistan. In this historical temple, there is a crowd of devotees from morning till evening for the darshan of Hanumanji. The city is situated on the banks of the Arabian Sea. A large number of devotees from India also visit the Panchmukhi temple located here to have darshan of Hanuman.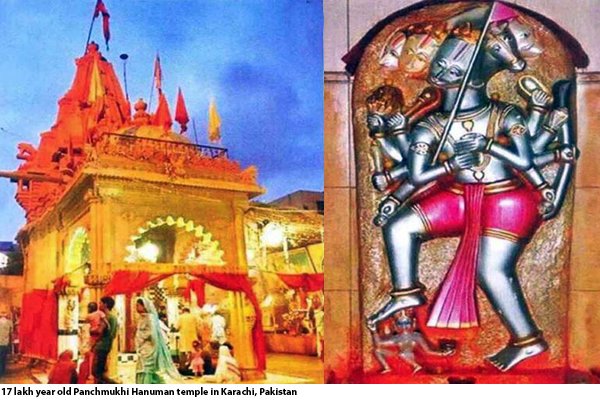 According to the scriptures, Lord Shri Ram has come to this temple. The idol of Panchmukhi Hanuman ji in the temple is not an ordinary idol, because the history of this idol is 17 lakh years old in Treta Yuga.
The wishes of the devotees are fulfilled
The local Hindu community believes that Panchmukhi Hanuman ji in this temple has been fulfilling the wishes of our devotees for thousands of years. These people believe that for the Hindus who did not leave their homes at the time of partition, today this temple has become a major center of faith for them and that is why on every Tuesday and Saturday Hindu devotees and devotees from Karachi city come here for darshan. come. big number. come to do
The idol of Hanuman ji in this temple has the first face of a monkey, the second Garuda, the third Varaha, the fourth Hayagriva or horse and the fifth Narasimha. According to Hindu religion, each face of the Panchmukhi form of the idol of Hanuman ji has its own significance.
The devotee who does parikrama of Hanuman ji revisit for darshan.
It is said that 11 handfuls of soil were taken out from where this temple is situated, after which this idol appeared. That is why the number 11 has a special significance in this temple and on the basis of this it is believed that whoever completes the 11 parikramas of Balaji, Lord Hanuman ji fulfills all his wishes. Whereas Hanuman ji gives an opportunity to call the devotee who is circumambulating 21 times again for darshan.
From Treta Yuga till now, this temple has seen many ups and downs.
This temple of Panchmukhi Hanuman has seen many ups and downs from Treta Yuga till date. The temple was looted, demolished, destroyed several times at the hands of invaders and equally rebuilt by Hindu kings. Despite this, this place still stands proudly. Based on the historical facts about the construction of this temple, it is believed that this building of Hanuman ji's temple was rebuilt in 1882.
LK Advani and Jaswant Singh have also come here for darshan.
The historical importance of this Hanuman temple can be seen from the fact that former Home Minister of India and veteran BJP leader LK Advani and former Union Minister Jaswant Singh have come here to visit. The idols of all the gods and goddesses of Hindu tradition are installed in this temple. Hearing the glory of the temple, people of every community keep visiting here.