01/02/2021
Tomar strikes Pawar's tweets on agri laws; Is it from a veteran leader like him?
New Delhi: Agriculture Minister Narendra Singh Tomar on Sunday criticized the agriculture laws on NCP supremo Sharad Pawar's tweet, saying that they are a mixture of 'ignorance and misinformation' about the law, and it is expected that veteran leaders will learn this.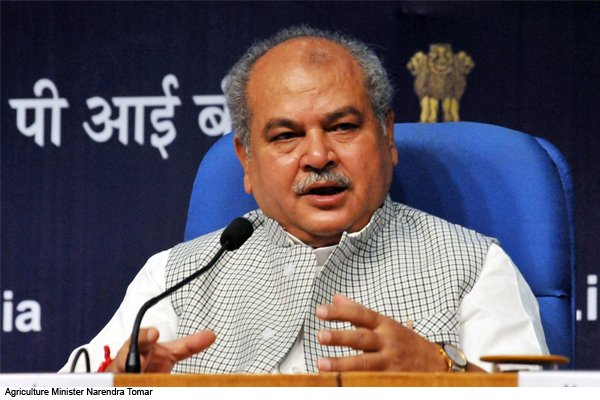 In a series of tweets, Pawar on Saturday said that the new agriculture laws of the central government would adversely affect the purchase of the minimum support price (MSP) and weaken the `mandi 'system. Pawar's tweet – who pitched for these reforms as agriculture minister during the UPA era – was a time when negotiations between the Center and 41 protesting peasant unions reached a deadlock.
Reacting to the NCP leader's comment, Tomar said that Pawar, who is an experienced leader, is well-versed in agriculture-related issues and solutions. 'Pawar himself tried his best to bring the same agricultural reform.' 'As he speaks with some experience and expertise on the issue, it was disappointing to see his tweet to see a mixture of ignorance and misinformation on agricultural reforms. Tomar gave me an opportunity to present some facts.
The minister countered Pawar's tweet, stating that the amended Essential Commodities (EC) Act 'could lead to fears that corporates may purchase goods at lower rates and reserves and sell them to consumers at higher prices. ' 'There is no basis for apprehension. Tomar said, under the Election Commission Act, the central government can intervene in exceptional circumstances, including wars, famines, extraordinary price increases, and natural disasters of a serious nature.
He added that the new laws encourage additional option channels for farmers as they can sell their products to anyone, with any hassle-free movement in and outside the state at a competitive and superior net price for their produce. To realize. "It does not affect the existing MSP (MSP) system," he said.
Under the new ecosystem, the minister said, mandis are not affected. Instead, they will be more competitive and cost-effective in terms of services and infrastructure; And both systems will co-exist for the common interest of farmers.
Tomar said: ar as he (Pawar) is such a veteran leader, I would like to assure you that he was indeed wrong with the facts. Now that he has the right facts, I hope he will change his stand and also show the benefits to our farmers. In his tweet on 30 January, Pawar had expressed concern over the removal of stock limits on food items under the amended EC Act.
He tweeted, "Stock limits on foodgrains, pulses, onions, potatoes, oilseeds, etc. have been lifted, this may lead to fears that corporates can buy commodities at low rates and stockpiles and sell them to consumers at high prices, "He tweeted.
The NCP chief also said that reforms are a continuous process and no one will argue against reforms in APMC or the mandi system.
He said that … positive reasoning on this does not mean that it has been done to weaken or demolish the system.
The government has offered some concessions, including new agricultural laws to be retained for 1–1.5 years, and the Supreme Court has constituted a panel to maintain the controversial law for two months.
However, agitating farmers' unions have rejected both and intensified the more than two-month-long agitation on the borders of the national capital.