09/05/2021
Uttar Pradesh announced lockdown till 17th May, Eid also be restrict
Lucknow: The Uttar Pradesh government decided to increase the duration of the Lockdown in the state between the increase in corono virus cases on Sunday. Previous Luckdown was over Monday morning. On April 29, the state government had announced that weekend lockdown will also cover on Monday and on May 3 it was extended till 6 May.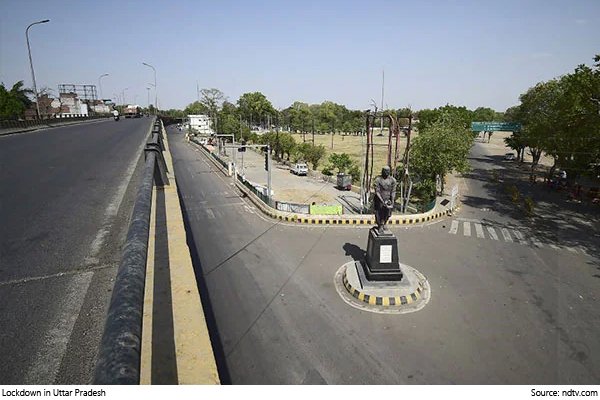 Earlier, in the neighboring state Delhi, Chief Minister Arvind Kejriwal increased lockdown for another week today, saying that it will be 'strict' this time. Now all the restrictions in Uttar Pradesh will continue from 17th to east. Meanwhile, the festival of Eid is also on April 14, although all the restrictions will be applicable. To break the chain of Corona virus infection, the government decided to lock the lockdown with restrictions in the state. Looking at the circumstances of Corona in Uttar Pradesh, lockdown was imposed by May 10, which has now been extended 7 days.
Uttar Pradesh Chief Minister Yogi Adityanath said on Saturday that from May 10 to 18-44 years in the state, Corona virus vaccination campaign will be launched on a large scale.
Yogi said that UP recorded the highest single-day in COVID-19 cases on April 24, and recorded the highest calculation of active cases of 3.10 lakh on April 30.
Reporting country record cases suffering from a second wave of Coronovirus. In the last 24 hours, it recorded 4,03,738 new Kovid case and 4,092 deaths, which caused the total case 2.22 crore.
Last month, Prime Minister Narendra Modi had compared the second wave of Coronovirus from the storm and urged the states to use Lockdown as a final last resort. He underlined the use of micro-control areas and curfew to prevent the need of Kovid's appropriate behavior and to prevent the spread of the virus.
After the meeting with CM, Additional Chief Secretary said that all the restrictions will be continued till 7 pm on May 17. During this time, people will be allowed to move to the necessary services. From April 30 in UP, Corona Lockdown is engaged and the constant government is increasing its money.
Eid will also be restricted
On May 14, there is also a festival of Eid in UP, in such a situation, the government has decided that the ban while not taking any kind of danger will be extended by May 17. After the government's decision, the officials of all districts have been sent to this regard.