Lucknow: The Allahabad High Court on Monday directed the Uttar Pradesh government to block the chain of Covid-19 infection by locking in 5 cities by April 26. Noting that the restrictions would come into force in Prayagraj, Lucknow, Varanasi, Kanpur and Gorakhpur from the night of April 19, the court advised the state government to complete a complete lockout in Uttar Pradesh for a period of at least two weeks. According to the order, the lockdown will take effect from Monday night itself.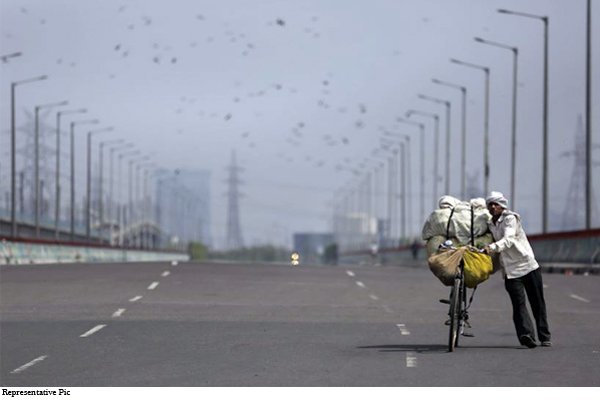 A division bench of Justice Siddharth Verma and Justice Ajit Kumar argued that coron virus will also be ensured to provide relief to the frontline healthcare workers so that more attention is paid to the already admitted patients.
At present, there are 1,91,457 active cases in UP, while 6,50,333 patients have been discharged and 9830 deaths have been recorded.
Explain that keeping in mind the uncontrolled cases of Corona, the Yogi Adityanath government of the state had already announced a lockdown in the state on Sunday. Instructions were issued to keep all establishments closed during this period, except for essential services. According to the order of the state government, curfew was imposed in the entire state from 8 am on Saturday night to 7 am on Monday. At the same time, night curfew is also applicable in 11 cities of UP with the highest corona cases.
According to the report released by the Health Department on Monday, 28 thousand 200 new cases of corona have been reported in the state in the last 24 hours. The highest number of cases came from the capital Lucknow. 5 thousand 800 new patients have been found here in a day. At the same time, a total of 167 people have died in the state within 24 hours due to Corona. In the capital Lucknow itself, 22 people have died due to corona. However, for the first time in the last 25 days, the state had the highest recovery on Monday. Within 24 hours, nearly 11 thousand people have beaten Corona.
What will be open, what will be closed
All government or private establishments will remain closed except for essential services including financial institutions and financial departments, medical and health services, industrial and scientific establishments, municipal functions and public transport.
All shopping complexes and malls will remain closed
All grocery stores and other commercial shops will be closed except medical shops with more than three workers.
All hotels, restaurants and even small points of eating at toll etc. will remain closed
All institutions such as educational institutions and other institutions and other subject related activities will be closed government, semi-government or private, including their teachers and instructors and other employees (this direction is for the whole of Uttar Pradesh).
No social ceremonies and ceremonies including marriage functions will be allowed. However, in case of pre-decided marriages, necessary permission will have to be obtained from the District Magistrate of the concerned district. Will be limited to 25 persons and the District Magistrate concerned will take a decision after taking into consideration the current status of impact of Covid-19 including notification of control area in the area where such marriage is to take place
It is directed to suspend all public religious activities of any kind.
All religious establishments of any kind are directed to remain closed.
All the hawkers including fruit and vegetable vendors, milk vendors and roti vendors will hit the road every day at 11 am
Container zones will be notified every day in two major Hindi and English newspapers with wide spread coverage in Prayagraj, Lucknow, Varanasi, Kanpur Nagar / Dehat and Gorakhpur districts.
Subject to the above instructions, all public movements on the roads will be completely banned. Movements will be allowed in case of medical aid and emergency