27/05/2022
Valuable Indian information technology stocks have fallen heavily in the past month
While spending on digital transformation from large enterprises will continue, the overall growth rate in tech spending may slow down as companies feel inflationary pressures on their tops. Valuable Indian information technology stocks TCS, Infosys, Wipro and other IT companies' have fallen heavily in the past one month, falling as much as 18%.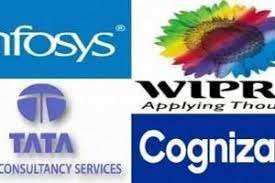 The Nifty IT index has fallen more than twice as much as the benchmark indices Sensex and Nifty 50 in the last month.
The post-pandemic era may be slowing the dream of Indian information technology stars, with the Nifty IT index falling more than twice as much as the benchmark Sensex and Nifty 50 in the past month.
The Nifty IT index slipped over 13% during the one-month period, while the benchmark index fell over 6%.
One reason for the sharp decline is the massive sell-off in the US markets, where most of our tech majors' revenue comes from. Currently, the IT sector is facing a challenging macro environment including rising borrowing costs, making it difficult for companies to spend more on digital transformation.
The slowdown may be seen in digital transformation spending
The biggest drivers behind the record growth of IT companies in the post-pandemic era have been enterprises enrolling in digital transformation programs, improving their IT infrastructure, and adopting new technologies.
Analysts suggest those days of record growth may be behind us.
"We expect enterprises' willingness to spend on digital transformation will continue, but the growth rate on spending is likely to be hindered by volatility in revenue and earnings," said analysts at Nomura.
Recently, top US retailers Walmart and Target reported poor earnings, indicating top-line troubles in the economy.
In fact, FAANG stock (Facebook, Apple, Amazon, Netflix, and Google) has lost more than $2 trillion in valuation since the beginning of the year.
Brokerage firm Nomura Research sees a possible slowdown in revenue growth for IT companies in FY24. It expects tough days for tech spending amid challenging macroeconomic conditions, intensifying the US Fed's stance to ease inflation and profit warnings by corporates around the world.
JP Morgan downgraded its ratings from 'neutral' to 'underweight' on TCS, HCL Tech, Wipro, L&T Tech on the possible macro slowdown.
"Indian IT growth was accelerating till 3Q22 and has started to slow down from 4Q22 which is likely to worsen in FY23 from tougher comps, supply issues and ultimately deteriorating macro. On the back of peak sector growth, the impact of declining growth should continue on the sector multiple," said a JP Morgan report.
This reduced the IT sector's stance to lower weights and target multiples by 10-20%.
Analysts at Nomura said, "The rapidly changing macroeconomic situation, the Fed's stance to contain inflation through continued interest rate hikes and profit warnings by corporates around the world, suggest a tough day for tech spending." More to come," Nomura analysts said.
Changes in IT companies in last one month
TCS-10.99%
Infosys -11.11%
HCL Technologies – 11.27%
Wipro – 15.99%
Tech Mahindra -17.53%
Source: BSE till May 25
A study by Nomura shows that 750 out of 2,000 global companies suggest a significant slowdown in overall financial performance in the coming quarters.
The brokerage has downgraded the shares of some Indian IT companies with the target price.
IT Companies Nomura Rating Target Price Current Market Price
TCS reduced from neutral to ₹2,950 ₹3,165
Buy Infosys ₹1,720 ₹1,418
HCL Technologies Buy Neutral from ₹1,100 ₹974
Wipro Buy to Neutral ₹490 ₹446
Buy Tech Mahindra ₹1,350 ₹1,064