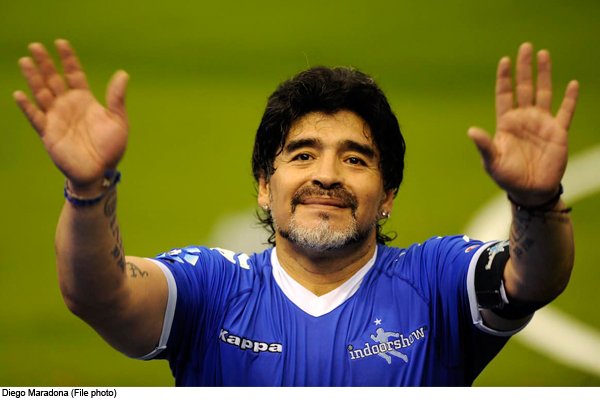 New Delhi: The legendary footballer and Argentine star Diego Maradona underwent brain surgery due to a blood clot in his brain. Maradona was admitted to a hospital in Buenos Aires a week after his 60th birthday as his health deteriorated.
Earlier, his personal doctor Leopoldo Lukey said, "I will do his operation. This is a routine operation. He is well. "60-year-old Maradona, the World Cup winner, was hospitalized on Monday after suffering from a deteriorating health.
Maradona underwent several tests at the hospital. A scan revealed a blood clot in the brain. The Argentine media is speculating that this blood clot is the result of Maradona's head injury.
Earlier, Luke claimed that Maradona was feeling well and was nervous to leave the hospital. However, he said that Maradona is suffering from anemia, due to which he has a deficiency of iron in his body and he has also suffered from dehydration.
Luki said that because of this Maradona felt very weak and tired. After several tests, it was found that he had a problem of blood clot. For this reason, he was transferred from a hospital in La Plata, 60 km from Buenos Aires, to the Specialist Clinic in the capital.
Let me tell you that Maradona has celebrated his 60th birthday on last Friday. His doctor, Luke, has said that his lifestyle is largely responsible for Maradona's condition. However, the doctor has also denied reports of Maradona being corona.
Maradona will now rest for 48 hours in a clinic outside Buenos Aires. Maradona has suffered from cardiac problems in the past due to his problems with excessive use of alcohol and drugs. In particular, Maradona was treated for stomach bleeding in 2019.
Maradona is working as the head coach of the Division 1 side Gimnasia. On his 60th birthday last Friday, Maradona had missed the national championship match in half, raising concerns over his health. (With agency input)
Also read in Hindi: दिग्गज फुटबॉलर माराडोना की सफल ब्रेन सर्जरी की गई