31/12/2020
Viral post: Zomato placed 22 biryani orders per minute in 2020
New Delhi: During the Covid era, Zomato has made sales escalated. Though initial lockdown everything was closed but after lockdown, Zomato made impressive sales and they share their sales trends through social media posts. Zomato has released information via memes about "how India ordered this year." This is a thread that Zomato shared and each post shows details about the most expensive orders, the smallest orders, and the times when India calls for vegetarian biryani. Every post also has a hilarious meme.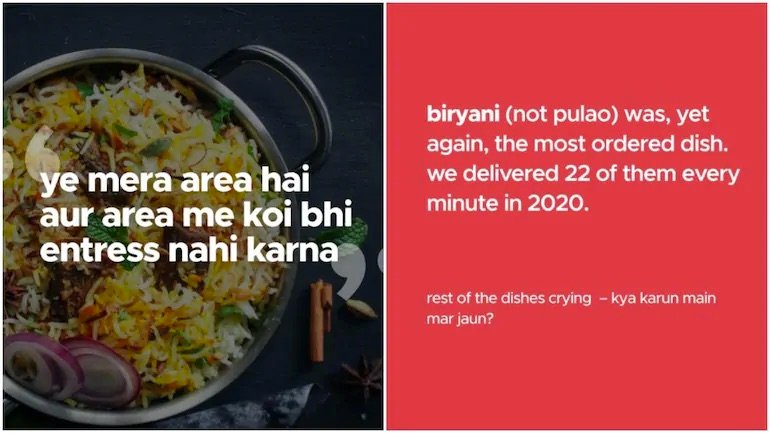 How many people have pointed towards India and what is that?
According to their 2020 trends, Zomato placed 22 orders of biryani every minute of 2020. 1,988,044 plates of Veg Biryani were delivered by Zomato in 2020.
How many times has India pointed to pizza?
In May, more than 4.5 lakh orders were placed for pizza with Zomato. It exceeded 9 lakhs by July, 12 lakhs by September and more than 17 lakhs in November. One of the residents of Jalgaon in Maharashtra ordered 369 pizzas in 2020.
What is the maximum number of years in 2020?
Bangalore resident Yash took 1,380 orders from Zomato in 2020. This means that Yash placed about four orders every day. Well, this is something!
Which was the most important order of ZOMATO?
The most expensive order was around Rs 2 lakh, which cost Rs 1,99,950. The person placing the order received a discount of Rs 66,650.
Which was the smallest order of ZOMATO?
The smallest order was Rs 10.01 after a discount of Rs 39.99.
Which was the favorite dessert of 2020?
The highest number of orders were placed for Gulab Jamun in 2020. In fact, one lakh orders were placed during the week of Diwali.
How to post-internet detected internet?
Zomato's posts have gone viral on social media and many have been liked and retweeted. People shared their views and opinions in the comment section of the post.