12/01/2021
What's Why WhatsApp has clarified on Privacy Policy? What another substitute for WhatsApp?
New Delhi: Amid row over reports of WhatsApp users alleging leak of their private messages with family and friends on search engines, the Facebook-owned messaging service has issued yet another clarification. "We Want To Address Some Rumours": WhatsApp Updates On Privacy Policy Row"
There are rumours about Facebook, WhatsApp clarifies again on updated privacy policy amid row. Says "update doesn't affect the privacy of messages with friends or family". Lists information "NOT shared with Facebook".
Addressing one of the biggest concerns about "group privacy", WhatsApp in the Security and Privacy section of its website states: "We don't share this data with Facebook for ads. Again, these private chats are end-to-end encrypted so we can't see their content."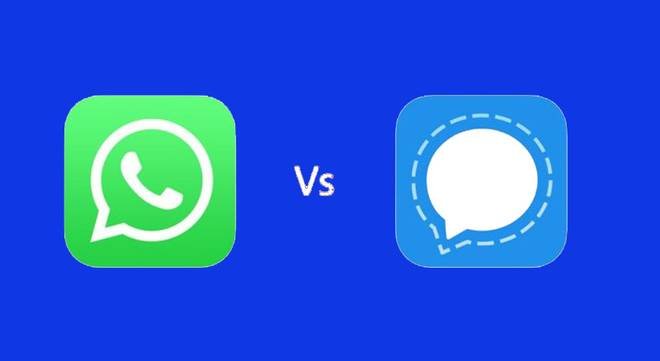 WhatsApp has said the change in its recently revised policy "does not affect the privacy of messages with friends or family". "Instead, this update includes changes related to messaging a business on WhatsApp".
For "additional privacy", it suggested users change message settings to "disappear from chats after you send them". Complete steps on how to accomplish this have been shared on its website.
Privacy concerns and fear of security breaches have prompted people to weigh other messaging apps, such as Signal and Telegram which either do not collect any data, or just basic user information.
Let's try to compare WhatsApp and Signals messaging software and their security and structure.
Currently, WhatsApp is the largest messaging service in the world with 2 billion monthly active users. Subsequently, Telegram has 400 million and Signal in the ballpark of 10-20 million monthly active users. Looking at the raw numbers, it is clear that WhatsApp is wildly popular and almost ubiquitous while Signal seems to have just joined the race for million downloads. Having said that, the numbers tell you everything and indicate why we bring you a detailed comparison between WhatsApp vs Signal.
While the signal beats WhatsApp well when it comes to security, it falls short on the features it provides. Still, I don't think there is any major missing feature that can prevent you from using the app.
You have secure messages, voice and video calls and all communications are encrypted end-to-end. In addition, you can create groups, however, you do not have the option to broadcast messages to multiple contacts simultaneously. In addition, Signal recently added support for group calling, something that was long missing from the app.
For me, the best feature of a signal is "note to self". Unlike WhatsApp, you do not have to create a member group to send notes to yourself. On Signal, this feature is basically available and you can share your thoughts and ideas while sending messages with your friends and family.
In addition, the signal allows you to relay voice calls to your server so that your identity is hidden from your contacts. This feature is somewhat similar to what a VPN does. The signal also provides a built-in option to hide your IP address. In addition, you can enable the incognito keyboard while typing on the signal, apply dark mode, delete old messages in one stroke, and of course, face and remove images from images using its powerful photo editor May blur private information.
There are also emoji and some privacy stickers, but they are very limited compared to WhatsApp and Telegram. All in all, Signal has some of the best privacy features but may fall short for users who want endless customization options. You can learn more about signal features from our article on the best signal tips and tricks.
The signal is by far the best when it comes to security, be it on the back-end or the user-facing side of the service.
As mentioned above, the signal uses an open-source signal protocol to implement end-to-end encryption. And like WhatsApp, E2E incorporates all forms of communication over the encryption signal.
Although WhatsApp encrypts messages and calls (and enough for most users), the signal goes a step further and also encrypts the metadata. To protect user privacy from all corners, Signal devised a new way to communicate between sender and recipient and is called seal sender. Originally, with the seal sender, no one would know – not even the signal – which is sending the message, which is surprising.
In addition, you have some incredible privacy features on Signal that are going to make your messaging experience more private and secure. For example, you can lock a signal with a passcode or biometrics. Then the app has 2FA and has the option to block screenshots and more recently screens. And recently Signal added a new feature to automatically blur the face before sending images. This is good, isn't it?
Not to mention, by default the signal encrypts all local files with a 4-digit passphrase. And if you want to create an encrypted local backup, you can also do so. The app now also supports encrypted group calls.
Recently there was some reporting about the safety of the Celebrite cracking signal. However, Signal debunked that news and you can read more about it. In terms of security and privacy protection, Signal stands head and shoulders above WhatsApp and Telegram and is the most secure messaging app among the three.
Finally, the non-profit Signal Foundation run by cryptographers Moxie Marlinspick and Brian Acton owns Signal. Moxie Marlinspike Open Whisper Systems – used to be the brainchild behind the signal protocol. After meeting Brian Acton in 2018, they formed a new alliance called the Signal Foundation. It now fully funds the development of Signal Messenger. Notably, Brian Acton was the co-founder of WhatsApp. However, he left the company 3 years after the acquisition of Facebook.
Now, he oversees the development of the signal with Moxie Marlinspike. Many high-flying people, including Edward Snowden, American whistleblower; Jack Dorsey, Twitter CEO and others support Signal. In addition, Signal has achieved the top score on the EFF's secure messaging scorecard, making it the most secure messaging platform.
The signal is run by donations and grants, if you are wondering how it makes money. In fact, you can also donate to Signal to fund your future development.
After that entire discussion, it is clear and clear that the signal is highly secure and private. If privacy is at the top of your priorities, then signal are the way to go for you. WhatsApp is great as far as E2E encryption is concerned. However, with the new privacy policy we are now extremely difficult to suggest WhatsApp to anyone.
If you are looking for essential messaging and calling features with high security, you can consider Signal. However, WhatsApp is already seeing more dice with the new policy update.