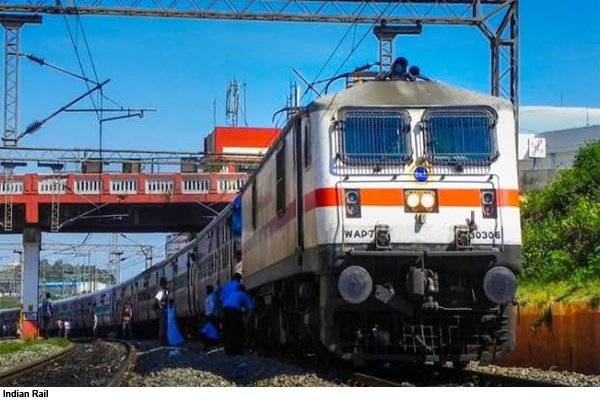 New Delhi: Indian Railways is planning to run additional special trains in view of the festive season so that trains are not overcrowded during the festival. Let us know that most of the crowds are seen in the trains during the festival. Railway Board Chairman and Chief Executive Officer VK Yadav said on Thursday, Railways is planning to start 200 special trains from October 15 to November 30.
Railways have currently canceled all regular passenger trains indefinitely. The railways canceled all regular trains from 22 March due to the corona virus epidemic. Subsequently, Railways started operating 15 pairs of premium Rajdhani Special trains connecting Delhi to various parts of the country from 12 May and 100 pairs of long distance trains started operating on 1 June. The railways had run an additional 80 trains since 12 September.
VK Yadav said, "We have held meetings with the general managers of the zones and instructed them to talk with the local administration and review the condition of corona virus. The local administration has been asked to submit a report, after which we will decide how many more trains can be run during the holiday season. "So far it is estimated that we will run about 200 trains, but it is only an estimate," he said. The number of trains can also be more. "
He said that the railways have decided to take stock of passenger services daily based on the needs of state governments and the state of the epidemic. He said, "As far as passenger trains are concerned, now the situation is that we will analyze the requirements, traffic patterns and corona situation of trains on a daily basis. We will run trains wherever needed. "
Yadav said, "We have introduced a system of cloned trains, where every morning we analyze the data of trains through a software. Our effort is to ensure that wherever there is a long waiting list, a clone train is run, "he said." We have also decided. Wherever the clone train becomes full, we will run another clone train on the same route to ensure that no passengers are in waiting. "
Yadav said that there is also coordination with the state governments. The Railway Board is starting two to four trains every day, instead of announcing multiple trains simultaneously. Because in the Corona era a lot of things have to be taken care of. He said that during this time Indian Railways is also campaigning for safe travel of passengers and necessary information is being given in stations and trains. The people of the village around the railway station are also being told about this.
Chitrakoot Express will run again
Chitrakoot Express, the only train connecting Jabalpur to Lucknow and Kanpur in Madhya Pradesh, will run again after six and a half months. The railway has released the train schedule on Thursday. This train will leave Lucknow for Jabalpur on 5 October. From October 6, this train will go from Jabalpur to Lucknow on a regular basis. There has been no change in the time and route of the train. Looking at Kovid 19, the train is being made special and run. Because of this the train number has been changed.
Also read in Hindi: Indian Railways: 15 अक्टूबर से फेस्टिव सीजन के दौरान चलाई जाएंगी 200 विशेष ट्रेनें