21/01/2021
31 years of expulsion of Kashmiri Hindus! What will be able to rehabilitate them?
Kashmiri Hindus did not transfer in the year 1990 but were expelled. It is necessary to act on it as our suffering, but only politics is done on it. If Kashmiri Hindus are to get justice, then we have got a dynasty, it will have to be accepted first. Failure to accept this has created a crisis for the Hindus of the entire country. There is a primary requirement to make laws related to that. If the Bill (Jinocide Bill) is brought about by the massacre, then the resettlement of Kashmiri Hindus is possible.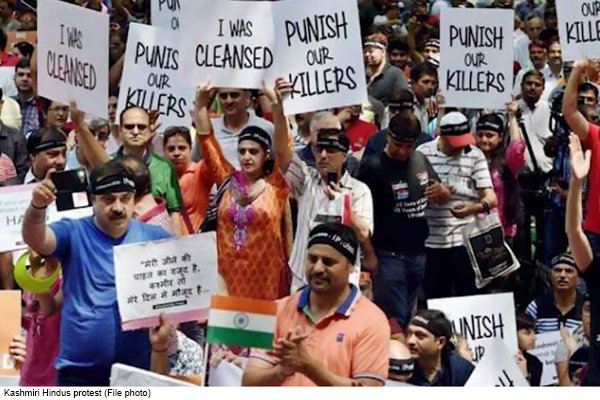 It is noteworthy that seven and a half lakh Kashmiri Hindus have not been rehabilitated. The exiled Kashmiri Hindus need to reclaim their land to maintain their identity. We should create a safe environment to go there again and tell the government how to create a safe environment. Our rehabilitation requires the support of Hindus from across India, and for that, the Hindus of the entire country should awaken in this regard, said Rahul Kaul, President of Youth for Panoon Kashmir.
Rahul Kaul was speaking in this special symposium on '31 years of expulsion of Kashmiri Hindus!' By Hindu Janajagruti Samiti under this program 'Negotiation of Hindu Nation'. The event was viewed by 29715 people and reached 90162 people through 'YouTube Live' and 'Facebook'.
At this time, Tito Ganju (Kashmiri Hindu), the president of 'Epilogue News Channel', said, 'We are constantly referred to' transferred 'by denying the descent of Kashmiri Hindus. The state government has abdicated its obligation by not considering it as a genealogy. The number of Hindus killed in this massacre is also not recorded with the proper method. In the period from 1990 to 93, an estimated 25 thousand Hindus died while facing a changing environment in the refugee camp. In addition, thousands of Hindus were killed. Thousands of Hindu women were tortured.
It should be known that in the last 700 years, Kashmiri Hindus had to leave Kashmir 7 times. Our 21 generations have endured this massacre. The reason behind this is the role of Islamization of Kashmir by destroying the Himalayan culture of Hindus. In India, the killing of Hindus in Bangladesh, Myanmar, etc. can be stopped if the law related to genocide (Jinsoide Bill) is implemented. This bill should be converted into law. '
National spokesperson of Sanatan Sanstha Chetan Rajhans said at this time, "What happened on January 19, 1990, to understand the pain, suffering, hell torture of Kashmiri Hindus?" Will have to know this. Many countrymen are still not aware in this regard. We were not told about the atrocities on Kashmiri Hindus, it was hidden from the countrymen by a national conspiracy. At that time, 7 lakh 50 thousand Kashmiri Hindus had to be deported leaving their homeland. This removal was for a specific political purpose. This removal was done for Islamic power in Kashmir. Not a single political leader has been born in the last 31 years, who advocates security for Kashmiri Hindus! Still, the Kashmiri Hindus have not been restored. The Kashmiri Hindus should be revived with the promise of protection', the flamingo said at this time.