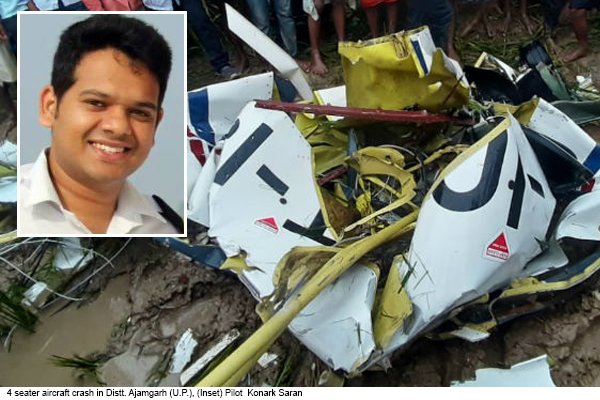 Lucknow: A 4-seater aircraft crashed into a field in Azamgarh district of Uttar Pradesh on Monday. One trainee pilot died in the accident. The pilot leaped with a parachute, but could not save his life. The pilot is identified as Konark Saran. Bad weather is said to be the cause of the accident.
The accident occurred in the Manjit Patti Kushan area of ​​Saraimir area of ​​Azamgarh district at around 11:30 am on Monday morning. According to eyewitnesses, at about 11.20 am in the morning, an aircraft was seen falling into the ground staggering in the sky. The plane was on fire while falling and smoke was coming out, it also exploded after the plane fell.
At the time of the accident, the pilot jumped through the parachute, but could not save his life. The pilot's body was found 400 meters away at the farm. A crowd of people gathered on the spot after the accident. Police also arrived after receiving information.
Aircraft TB-20 flew from Mau to Phursatganj in Indira Gandhi National Flight Academy, Amethi. The aircraft was to return after flying to Mau. The aircraft was a 4 seater. The trainee pilot was alone in this. The aircraft lost contact with ATC at 11.11 am. After which news of the plane crash was received.
Also read in Hindi: आजमगढ़ में 4 सीटर एयरक्राफ्ट क्रैश, प्रशिक्षु पायलट की मौत