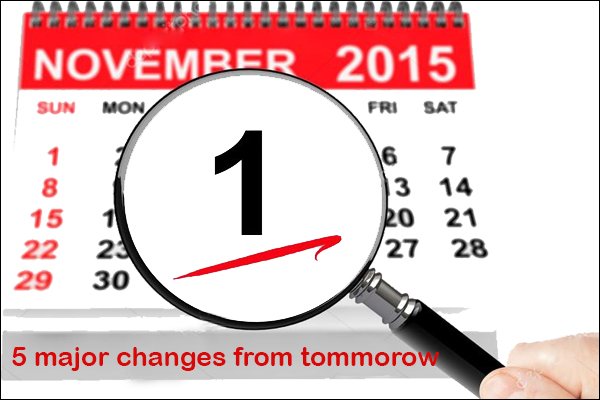 New Delhi: There are 5 major changes going on in the country from tomorrow i.e. 1 November 2020. These changes will have a direct impact on your pocket. While you will get relief from the new rules, on the other hand, if you do not take care of some things, then you may also have to suffer loss. These include gas cylinder prices, booking and home delivery of cylinders, railway time table and rules related to depositing and withdrawing money in the bank. Let's know what important changes are going to start tomorrow.
Banks charge for deposit & withdrawal
From November 1, customers will have to pay fees for depositing and withdrawing their money in banks. Bank of Baroda has also started this. Bank of India, PNB, Axis and Central Bank will take a decision on this soon. From next month i.e. from November 2020, customers will have to pay a separate fee for banking beyond the limit.
This facility will be free if CC, current and overdraft account holders deposit up to one lakh rupees per day. But if you deposit more than this, banks will charge you money.
For depositing more than one lakh of such account holders, one thousand rupees will have to be charged. The minimum and maximum limits for this are Rs 50 and Rs 20 thousand respectively.
If money is withdrawn thrice a month from CC, current and overdraft accounts, then no fee will be charged from the customers.
Fourth withdrawal will attract a fee of Rs 150 for each withdrawal.
There will be such a fee for savings account holders
The deposit will be free for savings account holders up to three times.
However, the account holders from the fourth bar will have to pay 40 rupees each time they deposit money.
Talking about withdrawal, customers will not be charged for withdrawing money from the account thrice every month.
But it will be mandatory for customers to pay 100 rupees every time from the fourth bar.
Time table of trains will change
It is important for railway passengers to know that from November 1, Indian Railways is going to change the timetable of trains across the country. A new time table of trains will be released from 1 November. This will change the time of 13 thousand passengers and 7 thousand freight trains. It is known that from now on every Wednesday, Tejas Express will run between Chandigarh and New Delhi. Earlier this change was going to be from October 1, but it has been finalized on October 31, extending it further.
Indane changed booking number
If you are an Indane customer, the news may prove to be important for you. This is because now you will not be able to book gas on the old number. Actually, Indane has sent a new number to its LPG customers for booking gas on their registered mobile number. Now Indane Gas customers across the country have to call or SMS 7718955555 to book LPG cylinder.
How to get gas cylinder?
A major rule related to LPG cylinders (LPG) is going to change in the country from November 1, 2020. The process of home delivery of gas cylinders will change from next month. One time password (OTP) will be required for this. The system is named the Delivery Authentication Code (DAC). That is, now you will not get the delivery of cylinder just by booking. For this, a code will be sent to your registered mobile number, you will have to tell that code to the delivery boy. Only after doing so, customers will get LPG cylinder. So if a customer's mobile number is not registered, then they can get their number updated through the app. This app will also be available with the delivery boy. The code will be generated after updating the number.
LPG Price
Oil companies review the prices of LPG cylinders at the beginning of every month. The price of LPG cylinders will change in the country from tomorrow. However, the oil marketing companies of the country did not make any changes in the prices of 14.2 kg non-subsidized LPG LPG cylinders in October. At the same time, the price of 19 kg cylinder had increased. It is known that tax is different in every state and LPG prices vary accordingly. Currently, the government provides subsidy on 12 cylinders of 14.2 kg for each household in a year. If customers want to take more cylinders than this, then they buy them at market price. Its prices determine factors such as average international benchmarks and changes in foreign exchange rates.
Also read in Hindi: कल से होने जा रहे हैं 5 बड़े बदलाव, जो डालेंगे आपकी जिंदगी पर सीधा असर