New Delhi: Inclusive development for aspiring India is one of the important pillars on which the Union Budget 2021-22 is based and along with it the Government's guidance for presenting the necessary proposals for the unorganised workers, especially the migrant workers and labours.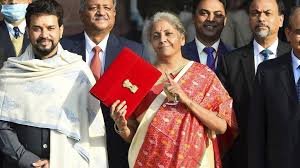 Presenting the Union Budget 2021-22 in Parliament today, Union Finance and Corporate Affairs Minister Nirmala Sitharaman laid special emphasis on the implementation of one nation one ration card and labor codes and also one for collecting information related to unorganized workers. Portal announced.
One Nation One Ration Card
The Finance Minister told the House, "One Nation One Ration Card Scheme is being implemented in 32 States and Union Territories with the benefit reaching about 69 crore beneficiaries, that is, 86 percent beneficiaries have been covered in it." Along with this, the Finance Minister also assured to integrate the remaining four states and union territories in the coming months. Under this scheme, beneficiaries, especially migrant workers, can claim their ration anywhere throughout the country. Under this, migrant workers can claim partial ration at the place where they are currently residing, while their families can claim their remaining ration at their native places.
Portal for Unorganized Workers
Furthering the government efforts being made in the interest of the unorganized workers, with a particular focus on migrant workers, Mrs. Nirmala Sitharaman announced the launch of a portal that collects information related to gigs, building construction and construction workers, etc. Will do. In addition, it will also help in preparing health, housing, skill, insurance, loan and food schemes for migrant workers.
Enforcement of labor codes
The Finance Minister said that the government will complete the implementation of the four labor codes to give social security benefits to the gig and platform workers by implementing the minimum wage in all categories of workers. Coverage under the Employees State Insurance Corporation will also be ensured for these workers. Women will be allowed to work in all categories. Along with this, women will also be allowed to work in night shifts with adequate protection.
The convenience of single registration and licensing as well as online return filing will reduce the burden of compliance on the employers.