09/05/2021
A Daily Wage Labourer's Wife, BJP's Chandana Bauri, Scripts History in Bengal's Saltora
In a historic victory, Chandana Bauri (30) of the Bharatiya Janata Party (BJP), wife of a daily wage laborer defeated Santosh Kumar Mondal of the Trinamool Congress (TMC) by more than 4,000 votes and walked in the Saltaura constituency of West Bengal. Of. His victory in the Bengal Assembly Elections 2021 is notable because Bauri is from a humble background.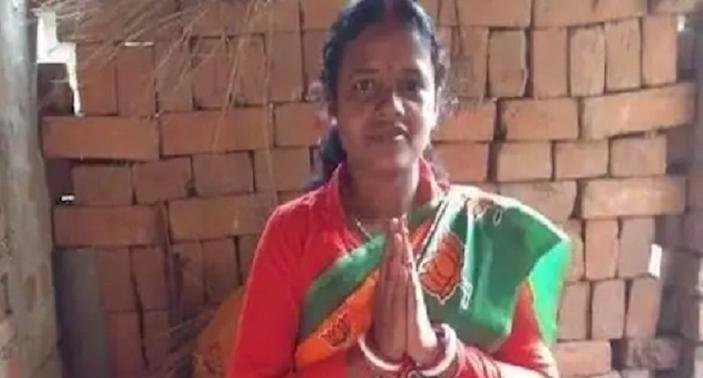 According to his election affidavit, Bauri, who has three children, has assets in cash and Rs 31,985 in the bank. He has three goats, three cows (one of them gifted by his parents) and a mud house that does not have a toilet. Her husband, Sarbon, works as a mason and earns 400 rupees for a day's work.
Until a few years ago, Bauri had only one dream – toilets in his house. With his election victory, things finally look promising.
"We have to walk to the nearby ground to relieve ourselves. Last year, we got the first installment of the Rs 60,000 Pradhan Mantri Awas Yojana, and built two concrete rooms, "she told the media.
During the campaign season, Bauri came out of her house at 8 am in a matore, draped in a saffron colored sari embellished with lotus print. She would take her son with her.
Srabon has been involved in politics in the past. A lawyer for the Forward Bloc, he was harassed by TMC activists when the party first came to power in 2011. This forced him to join the BJP. Bauri served as the general secretary of Mahila Morcha of North Gangajalghati Mondol in 2016 and then one of the general secretaries of Bankura district.
Bauri, who contested from Saltaura constituency, is reserved for the Scheduled Castes. Earlier, Swapan Barui of TMC had won twice last time.
"Before the announcement of the tickets, I did not know that I would be elected as a candidate in the Vidhan Sabha elections. Many people encouraged me to apply online for nomination, but I did not think that I would be able to achieve this achievement." . " He told the media. Bauri's victory gives a positive message to the marginalized sections of society and signals women to emerge as strong stakeholders in Indian politics.
The TMC won a massive 213 out of 292/294 seats on 2 May 2021, while the BJP scored 77 despite 117 days of campaigning led by action-packed PM PM Narendra Modi and Union Home Minister Amit Shah.