03/02/2021
AERO India 2021: 'Air Show' is started today in Bengaluru, seen the glimpse of 'Self-reliant India'
New Delhi: The air show is going to start in Bengaluru (Bengaluru) from today. Beginning modestly in 1996, Aero India has come a long way to become Asia's largest defense and aerospace air show.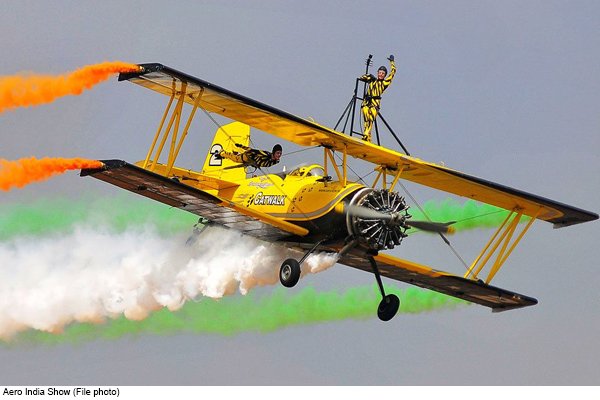 In its 25th year, the government is using it to pursue geopolitical goals with strategic developments. Defense Minister Rajnath Singh and Air Chief will also be present during this air show. This air show is an initiative to promote dialogue in an economic and cooperative environment that can promote the development of peace and stability.
18 of the 28 countries invited, including Iran's defense minister, confirmed physical participation, while nine more would participate. The Indian Air Force will host a two-day conference of Chiefs of Air Force (CAS) concerned with aerospace power strategy and technological development.
"Around 75 countries can participate in this air show," the Indian Air Force said, adding the conclave would provide a forum to discuss military aviation, space operations and aerospace strategy.
After the inauguration of the Aero India show, an additional 83 LCA Tejas Mark-1A aircraft will be signed between the Air Force and HAL. Let us know that recently this agreement was approved by the CCS Committee headed by the Prime Minister.
The mega contract will be signed at the Aero India Air Show in Bangalore in the presence of Defense Minister Rajnath Singh, top officials of the Indian Air Force and senior officials of Hindustan Aeronautics Limited (HAL). The deal for this powerful aircraft includes 73 Mk-1 fighter aircraft and 10 LCA Mk-1 trainer aircraft. Let me tell you that the Indian Air Force has already done deal with 40 Light Combat Aircraft. With this, a total of 123 Tejas aircraft have been signed for the Indian Air Force.
On the other hand, Defense Minister Rajnath Singh said on Tuesday that India cannot depend on other countries for its defense. Singh inaugurated the second LCA-Tejas manufacturing facility of Hindustan Aeronautics Limited (HAL) in Bangalore. It is believed that in the next 36 months, HAL will hand over the first LCA-Mark Vanne Air Force. All 83 aircraft are planned to be handed over to the Air Force by the year 2028-29.