01/12/2021
After meeting NCP chief Sharad Pawar, Mamata Banerjee said, 'There is no UPA now'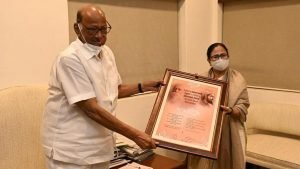 Meanwhile, Pawar said, "We agreed on the need to strengthen the commitment to protect democratic values."
West Bengal Chief Minister Mamata Banerjee on Wednesday, December 1 said that there is no United Progressive Alliance (UPA) anymore after meeting Nationalist Congress Party (NCP) chief Sharad Pawar at his residence in Mumbai.
Meanwhile, Sharad Pawar said after the meeting: "Today, my colleagues and I had a long conversation with him. He intends, in today's situation like-minded forces have to come together at the national level and establish a collective leadership.
He said, "We have to give a strong choice of leadership. Our thinking is not for today, but for the elections. It has to be established and with that intention he has visited and had very positive discussions with all of us."
Earlier, Pawar had taken to social media soon after the meeting. Pawar said, "It was a pleasure to meet the Hon'ble Chief Minister of West Bengal Mamata Banerjee at my Mumbai residence. We discussed various issues. We seek to strengthen our collective efforts and commitment to protect democratic values ​​and ensure the well-being of our people. Agreed on the requirement." Tweeted after the meeting.
On Tuesday, NCP leader Nawab Malik had said: "It is a goodwill visit, after which she will address the press and inform the public about the discussion."
The Trinamool Congress (TMC) chief had met Maharashtra minister and Shiv Sena leader Aaditya Thackeray and party leader Sanjay Raut in Mumbai.
"We welcome her to Mumbai and Maharashtra. There has always been a friendship. We even met her 2-3 years ago when she came to Mumbai. We had come to take that friendship forward. We discussed many issues but we Came here to welcome him. For Mumbai," Thackeray had said after the meeting.
Banerjee had also visited the Siddhivinayak temple after which she paid tribute to the statue of Tukaram Omble in Mumbai. Omble was a Mumbai Police officer who lost his life in the line of duty during the 2008 Mumbai attacks.