13/01/2021
Amid fears of WhatsApp privacy, lakhs of people switch over on signal and telegram
Encrypted messaging app Signal and Telegram has experienced a surge in new users after WhatsApp released an update to its privacy policy on data sharing with Facebook.
According to data firm Sensor Tower, the signal was downloaded 246,000 times globally in the week starting December 28. On January 4, WhatsApp announced a change in privacy, increasing the figure to 8.8 million.
Meanwhile, Telegram worldwide saw a surge of 6.5 billion between December 11 and $ 11 million for the past week. This comes after a signal last week that its systems had come under pressure from "so many new people" trying to join the app, delaying some verification codes.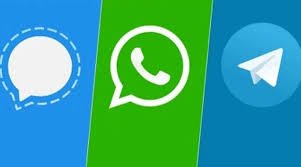 The app, which touts privacy as its key feature and pledges not to share users' data, also received an unexpected boost from Tesla chief Elon Musk, who this week asked users to "use the signal" said.
His remarks appeared related to an update on WhatsApp on Thursday about how it shares data with its parent organization Facebook.
This week all users received a pop-up notice in the app, allowing them to agree to an update policy, which comes into force next month and which allows it to share more data between Facebook and WhatsApp.
Although this policy does not apply to users in Europe and Britain, WhatsApp users were told that they would have to accept the policy or delete their accounts.
The policy removed a clause on how users can avoid sharing their WhatsApp data on Facebook, instead read: "As part of the Facebook family of companies, information is received from WhatsApp, and this family of companies Shares information with.
Elon Musk (@elonmusk) January 7, 2021
"We may use the information they receive, and they may use the information shared with our services, to operate, provide, improve, adapt, support and market our services and their offerings To assist."
Those deciding to agree to the new policy were directed to an online help center, in which WhatsApp said "if you'd prefer to delete your account".
Mr Musk responded to a news article on the privacy policy last week mocking Facebook's access to user information. WhatsApp later clarified that the policy changes do not apply to users in the European Union or the UK, where privacy rules are much tougher than other rules.
WhatsApp's European Director of Policy said in a series of tweets that "there was no change in WhatsApp's data-sharing practices in Europe arising from this update".
"It remains the case that WhatsApp does not share European region WhatsApp user data with Facebook to use this data to improve its products and ads."
This has been seen as a breakthrough for European privacy laws, with figures including Paul Tang, Dutch MEP, taking to Twitter to praise the regulation. He said, "Facebook has access to all our WhatsApp-data. You are living in the European Union. That's why data security matters."