10/03/2021
Anand Gandhi launches trailer of upcoming series 'Ok Computer'
Mumbai: Renowned filmmaker Anand Gandhi has finally released the trailer of his first dark comedy sci-fi thriller titled 'OK Computer' to the Indian audience. While the trailer has garnered a lot of rave reviews, the most intriguing audience has been Anand Gandhi, the man behind the project, he finally spoke about how the idea of ​​'OK Computer' came about!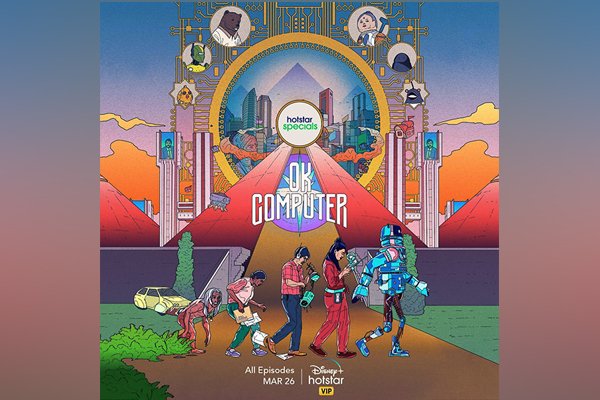 Sharing his thoughts with an avid fan, Anand shared, "Gary Kasparov (Russian chess grandmaster) lost to Deep Blue (IBM Supercomputer) in chess, and Gary Kasparov couldn't believe that a computer would give him chess. Can beat in the game of the game! It was 1997! And Kasparov was absolutely reluctant to imagine at that point in history that computers could become so smart as to beat him in a game of chess because he had been the greatest champion for so many years Were.
He could not imagine that machines at that time (and it was 1997) could even cross the scope of the calculus of a person sitting in front. Now one thing to consider here is that we are closer to 2040 than we were in 1997, which means that we have seen in the last few decades – the true potential of computers and AI in our lives and how it has helped a large number of human enterprises Is replaced by computing and AI.
By 2040, we can see AI doing basic tasks for us – such as in finance, administration, justice but we are actually going to see AI beyond human imagination. We are going to see AI transcending human talent, creativity and inventions. Yes, the question has been circulating for almost a decade, how are we reconciling with this new intelligence and how will we continue it? And I don't think we are going to pause anymore because it solves human problems. This makes redistribution of resources possible, easier and faster. AI is going to provide us with pools of longevity and well-being. But an important question here is what kind of legal framework are we creating to make this connection between our organic breed and this cloud based intelligence system?
He further added, and my friends and I have thought of taking a shot at this question all these years – more than 6 – 7 years from now and for the last 5 years, my closest friend and co-founder of Memesi – Pooja, Neil, Zen, Khushbu and Vinay started working with me and we really got closer to the question of how much imagination and insight we could muster and we got the idea while we were at it! Why don't we have the ball and have as much fun as possible, why do we laugh a lot while staying at it; And that's how 'OK Computer' was actually born! "
Sharing a special message with his enthusiastic audience, Anand Gandhi said, "You guys are really stakeholders, we really made it for you. It's a handcrafted work. Pooja and Neil have worked day and night . It's been a night of sleep for four years to do this. I, along with all of my friends from Zen and Memesi have worked incredibly hard to make it! It's truly a labor of love! We really Very happy to bring it for you. We want you to understand it!
This is where we think we can create chapters of conversation and participate in the conversation, as we as members of this geography are not actively part of it and it is the insignificant insight that many of the world's Parts have come to us and there is a desire and effort to make this conversation a true dialogue. What I am about to say is that we have shared some great ideas and insights of AI, our future, with our peers in the West.
What life and life will be like in the future and it is so incredible, enjoyable and inspiring but we really want to be a part of the conversation, we want to speak back into that conversation and it really is an ice breaker! Like my projects in the past, 'Ship of Thessus',' Tumbad, 'Governance', this' OK Computer 'is also an ice breaker, it's just the beginning of the conversation, it's not the end of the conversation! "
Produced by Pooja Shetty and Neil Pederkar affiliated with Ship of Theses and Tumbaad and by Anand Gandhi, OK Computer has a talented star cast – Radhika Apte, Vijay Verma, Jackie Shroff and Rasika Duggal. The series is going to release on March 26, 2021.