18/02/2021
Another video is the Red Fort violence surface; Delhi Police released a new video
Another video is the Red Fort violence surface. The Delhi Police released a new video, in which the clearly demonstrating crowd was shown huge devastation by the police as well as the historic memorial Red Fort.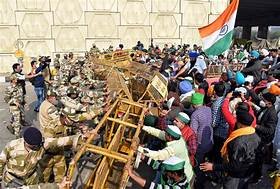 The video shows footage of people attacking the police and trying to smash the Red F Fort on Republic Day protest.
The Delhi Police had deployed a special force to access facial recognition of the culprits through these videos. According to the footage, one of the rioters has been arrested for inciting violence. The video also revealed that pro-Khalistan goons caused scuffles and inciting violence during the Republic Day tractor rally.