17/01/2021
Australia vs India 3rd day: Shardul and Sundar saved, Team India scored 336 runs
New Delhi: On the third day of the Brisbane Test, on the fast and bouncy pitch of Gaba, Washington Sundar and Shardul Thakur played India with tremendous innings. Both batsmen completed their fifties. However, after the dismissal of Rishabh Pant, it was felt that the Indian team would be reduced soon.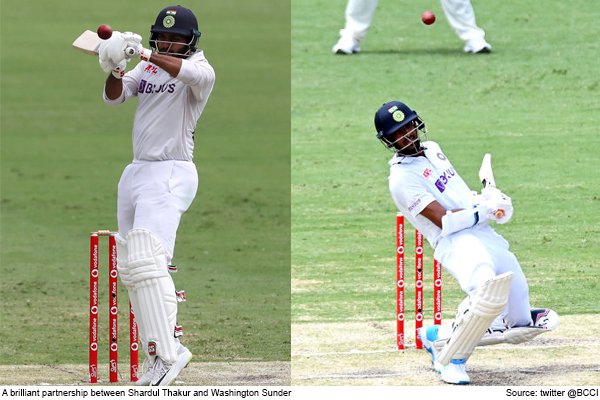 However, the pair of Sundar and Shardul blasted the Australian pace attack, and with that India returned to the match. Thanks to the courageous innings of these two batsmen, India was able to cross the 300-run mark. On the third day of the match, India was all out by scoring 336 runs and Australia got a lead of only 33 runs.
India started playing ahead by 62 runs for 2 wickets today. Cheteshwar Pujara and captain Ajikya Rahane were moving towards a good partnership when Pujara caught Tim Paine off Hazlewood and was dismissed for 25 runs. Rahane also succumbed to Mitchell Starc after scoring 37 runs. Mayank Agarwal, who did not get a chance in the last match, came down to bat at number five. It took a while that he was moving towards good innings, but on the score of 38, he also became a victim of Hazelwood. Rishabh Pant could not stay on the pitch too long and scored 23 runs.
After Pant's dismissal, it was felt that Australia would take a good lead over India. But, Shardul Thakur and Washington Sundar took on the Australian bowlers and openly shot. Washington Sundar and Shardul Thakur shared a brilliant partnership of 123 runs for the seventh wicket and did not allow Australia to take a big lead. After the dismissal of these two, Team India was reduced to 336 runs.
Washington Sundar, playing his first Test match, was included in the playing XI as an all-rounder and made his debut Test match memorable with a half-century. Shardul Thakur (67) also made everyone his favorite by applying Fifty. Both also took Australia's 3-3 wickets in the first innings.
Josh Hazlewood took 5 wickets from Australia. Michael Stark and Pat Cummins took 2–2 wickets. Nathan Lyon had to be content with one wicket.
Australia has scored 21 runs in the second innings without losing any wickets. Marcus Harris is not out for 1 and David Warner is 20.