19/02/2021
Baba Ramdev claims, Ayurvedic medicine 'coronil' certified by WHO
New Delhi: Yoga Guru Baba Ramdev on Friday relaunched Ayurvedic medicine for the Corona Virus by the Patanjali Research Institute in Haridwar, Haridwar. On this occasion, he released a research paper on 'First Evidence-Based Ayurvedic Medicine' for 'Coronil'. Ramdev said, "Nine research papers in the context of coronil have been published in the world's most influential research journals" Was present in Ramdev claimed that this drug from the Patanjali Research Institute is certified by the World Health Organization (WHO).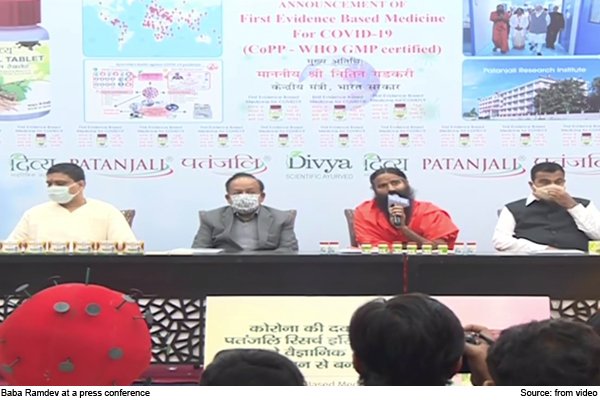 Issuing the scientific research paper, Ramdev insisted on its certification from the World Health Organization and said that this research paper is meant to satisfy those who had previously questioned the scientific relevance of medicine.
Patanjali's Coronile was first investigated due to a lack of scientific evidence and tests that could determine its efficacy in combating the deadly virus that has killed more than 1,56,000 lives in the country. Coronil was previously advertised as a treatment for corono virus infection, but was later licensed as an 'immune booster' amid controversy over its test data and structure.
Baba Ramdev said during the event that the objective of the institute is to recognize the ancient medical science of India globally by providing scientific evidence and fulfilling India's vision of self-respect in healthcare. He said that while modern medicine supported the highest recovery rate and lowest case mortality rate in the country, it should also be attributed to the people of India for Ayurvedic medicines and yogic lifestyles.
The Union Health Minister also stressed the need to use modern scientific instruments to highlight the importance of Ayurveda at the international level. He said that under the leadership of Acharyaji and Swamiji, Patanjali will help in getting Ayurveda an international recognition.
The global body is impressed by India's work in the region and would like to establish a global center for Ayurveda in India, citing talks between Prime Minister Narendra Modi with WHO Director General Tedros Adnom Ghebayeus.