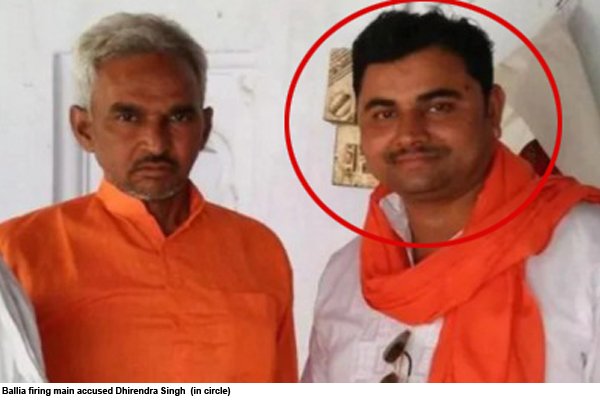 Lucknow: Dhirendra Pratap Singh, the absconding main accused in the Ballia murder case, has been arrested. The UP STF has arrested him on Sunday near Jenner Park in Lucknow. Dhirendra is accused of shooting and killing a person during the quota allocation of shops. More than 12 teams of police and STF were busy searching for him. On the other hand, UP Police arrested 3 more accused on Saturday.
Dheerendra was absconding since the incident and reward of 50 thousand rupees was declared on him. Dhirendra Singh released the video and declared himself innocent. On the other hand, BJP State President Swatantra Dev Singh summoned Barya MLA Surendra Singh for making an open statement in support of the accused.
The incident took place when an open meeting was held in the Panchayat Bhavan on Thursday afternoon regarding the allocation of 2 shops of Gram Sabha Durjanpur and Hanumanganj in Revati police station area of ​​Ballia district. SDM Baria Suresh Pal, CO Baria Chandrakesh Singh, BDO Baria Gajendra Pratap Singh as well as the police force of Revathi police station were present in the meeting. During the meeting, the shop of Durjanpur was not agreed. Later, a decision was taken to vote and identity cards were sought from everyone. One side did not have an identity card and started committing a commotion, which later turned into a fight.
According to eyewitnesses, the officials adjourned the meeting as soon as the commotion took place and started leaving. However, the police was also present on the occasion. After the meeting was adjourned, the two sides started fighting. During the fight, former army soldier Dhirendra Pratap Singh opened fire, leaving the other side's Jayaprakash alias Gama Pal (46) resident Durjanpur badly injured. He later died during treatment.
The reward was announced by the police against the absconding accused of Durjanpur case. Within three days, the police have arrested 5 accused and the search is on for the rest. After the incident on Thursday, Revathi police has registered a case against 8 named and 25 unknown on the Tahrir of Chandra Pal, brother of deceased Jayaprakash. Late Friday, DIG Azamgarh Subhash Chandra Dubey has announced a reward of Rs 50-50 and SP Devendra Nath Rs 25 thousand each on the absconding accused.
Also Read in Hindi: बलिया गोलीकांड का फरार मुख्य आरोपी धीरेंद्र सिंह गिरफ्तार, बीजेपी विधायक लखनऊ तलब