17/02/2021
Bengal election: Meeting of Bhagwat and Mithun have triggered speculation a role in the assembly election
The political ideology of actor Mithun Chakraborty follows the logic contained in the opening quote. Gauranga, who re-established himself as Mithun as a teenager growing up in Bengal in the 1960s, fell in love with the ideology of the Naxalite movement.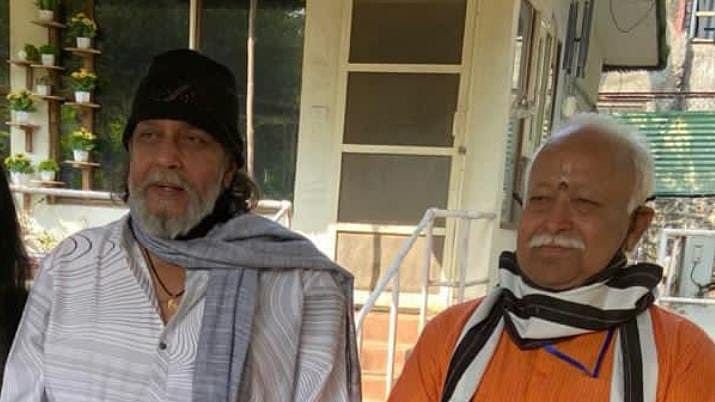 With such an extreme left ideological bent, Mithun shifted to the political mainstream of the Left while maintaining close ties with the ruling dispensation of the Basu-led Bengal. Later, he joined Bengal Chief Minister Mamata Banerjee's Trinamool Congress.
A meeting between RSS chief Mohan Bhagwat and actor Mithun Chakraborty has left speculation of the former TMC MP joining the BJP ahead of the Bengal elections. Disco dancer actor's ideological shift from Naxalism to political left before turning to TMC
Mithun Chakraborty resigned from the Rajya Sabha in two years after his name figured in the Saradha chit-fund scam. He deposited Rs 1.2 crore in the money the Enforcement Directorate (ED) received from the company for his services.
After his resignation as a Rajya Sabha MP on health grounds, Mithun Chakraborty leaned towards the RSS. After his 2019 trip to Nagpur, RSS officials had said that Mithun visited the headquarters of the organization as he "has started learning about the work of the Sangh" and said that "he is determined by the RSS's commitment to society Were impressed ".
Commenting on the speculation of Mithun Chakraborty joining BJP, Kailash Vijayvargiya, Bengal in-charge of the party had said, "If he wants to join the party, he is welcome that he is highly respected in Bengal and people would love him Huh."
Mithun Chakraborty to work for BJP in Bengal elections? No confirmation yet. But if he does, another former TMC leader will be in the electoral fray in Bengal.