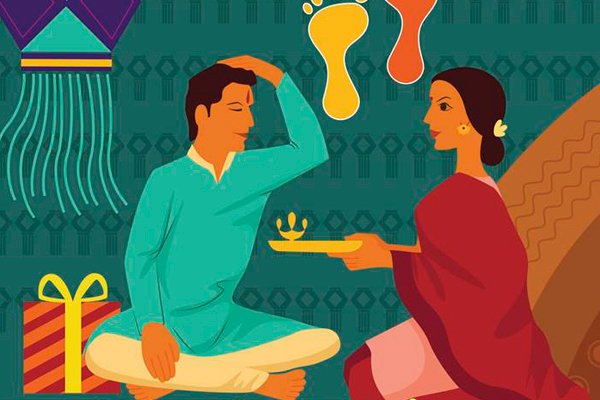 The second lunar day of Shukla Paksha is celebrated in the Hindu month of Kartik. The festival of Bhaidooj symbolizes brotherhood and affection, sacrifice and dedication. On this day, sisters vaccinate their brother and wish him long life and prosperity. The festival of brotherhood falls on the third day of Deepawali, a symbol of brotherly love. The festival of Deepotsav will also conclude on 16 November along with Bhaidooj.
Bhaidooj is also known as Yama Dwitiya
It is said that Lord Krishna killed the demon while returning back after killing Narakasura with his beloved sister Subhadra. Subhadra welcomed him with a vermilion of vermilion (kumkum) on his forehead as a mark of victory and blessing. This day is also known as 'Yama Dwitiya'.
Idon time for pooja
Auspicious day: 16 November, Time: 12.56 PM from 3.00-6.00 PM.
Like Rakshabandhan, the festival is also very special for siblings. On Bhai Dooj, sisters apply tilak on the foreheads of the brothers and wish for happiness, prosperity and prosperity. It is a tradition to take a dip in Yamuna on this day. The importance of bathing in Yamuna has been told on this day.
Worship method
Get up in the morning and take bath and get ready. First of all, both sister and brother should worship the messengers of Yama, Chitragupta and Yama and offer arghya to everyone. The sister then injects ghee and rice with her brother. Then, put sindoor, paan, betel nut and dry coconut i.e. gola on brother's palm. Then Kalava is tied on the brother's hand and their mouth is sweetened. After this, the sister wishes her brother a long life.
Legend of brotherhood
The name of Lord Surya Narayan's wife was Chhaya. Yamraj and Yamuna were born from his womb. Yamuna loved Yamraj very much. She would plead with him to come and dine at her house with favored friends. Yamraj, busy with his work, kept on talking. The day of Kartik Shukla arrived. Yamuna again invites Yamraj for food that day, committing him to come to his house.
Yamraj thought that I am going to defeat life. Nobody wants to call me home. It is my religion to follow the goodwill with which the sister is calling me. While coming to the sister's house, Yamaraja freed the creatures living in hell. Seeing Yamraj coming to his house, Yamuna was not happy with her. He took bath and worshiped and served food. Pleased with the hospitality offered by Yamuna, Yamraj ordered the sister to ask for the bride.
Yamuna said that Bhadra! You come to my house every year on this day. Sister like me, on this day should respect your brother and give him a comment, he should not fear you. Yamraj called Yamastu and gave the priceless clothes to Yamuna and went to Yamlok. The tradition of the festival was formed from this day itself. It is believed that those who accept hospitality do not fear Yama. That is why Bhaiyuduj is worshiped after bathing in Yamraj and Yamuna.
Govardhan Pooja
Govardhan festival is celebrated on the second day of Diwali. On this day, Govardhan is worshiped as Lord Krishna. This day is also known as Varshapati which signifies the coronation of King Vikramaditya. The Vikram-Samvat (Hindu calendar) began on this Padwa day.
Worship method
On this day, people build a mountain with cow dung in the courtyard of their house and worship it by burning water, molly, roli, rice, flower curd and oil lamp. It is made in the shape of a reclining male. After this, this mountain made of cow dung is rotated. After this, they are offered Annakoot to appease the God of Braj who is called Giriraj.
Worship time
The evening muhurta of Govardhan Puja is from 3 pm to 19 minutes from 5 pm to 27 minutes. Pratipada date will start from 10 AM to 36 AM on 15 November and will remain for 7: 6 AM on 16 November.
#Also read in Hindi: Bhaidooj 2020: जानें भाईदूज का शुभ मुहूर्त, पूजा विधि और कथा