Identity starvation, immense poverty, migration, but the electoral issue is just Lalu's son (Tejashwi Yadav) vs. Prime Minister Modi. Immediately before the end of the election campaign, political politics in four districts of Seemanchal suddenly changed. As soon as the election campaign was over, there was a clear line of communal polarization across the entire Seemanchal.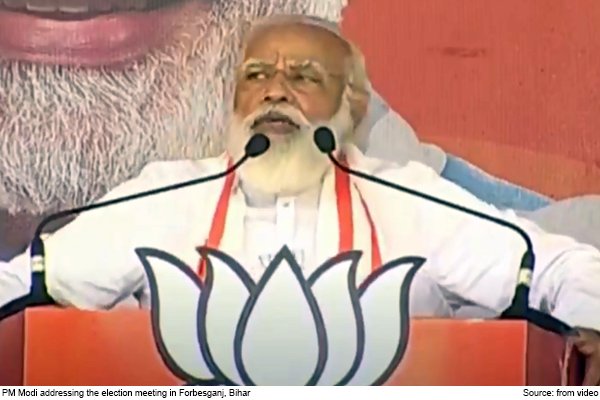 In the initial period, issues like unemployment, migration in four districts of Katihar, Purnia, Araria, Kishanganj were strengthened. The functioning of the local MLA was also an issue. Many seats dominated the issue of external versus local. However, in the last two-three days in the last round, after the rallies of Prime Minister Narendra Modi, Tejashwi Yadav, Nitish Kumar, Yogi Adityanath and Rajnath Singh, all the issues got winded up. The situation is that all the star campaigners of JDU including Nitish Kumar are also seeking votes in the name of Modi.
Muslims constitute around sixty percent in Seemanchal. This fraternity is badly apprehensive on issues such as NRC and CAA. There is a clear message in them. CAA and NRC will not be applicable in Bihar if Tejashwi comes to power. The interesting fact is that a large section of minorities in the educationally backward Seemanchal do not know the name of Tejashwi Yadav. She likes Lalu's son, says Sakina Khatoon of Dagarua of Pursia's Biasi assembly. Mohammad Tanveer, former chief of Kurum of Kadwa Assembly, says that there will be a vote to make the candidate not CM.
Suddenly changed mood: By the last week, AIMIM candidates were showing tremendous influence in the seats of Bayasi, Thakurganj, Kishanganj, Kochadhaman, Bahadurganj in Seemanchal. Similarly, Congress candidates in Bari and Kadwa were content with allegations of being outsiders. Similarly, in many seats, local BJP-JDU MLAs were aghast at the question of development. However, after several rallies, the issue became stunning versus Modi.
Parallel Polarization: A sudden parallel polarization was also indicated on such seats in Seemanchal where the Hindu population is in a minority. Earlier, there were signs of splitting of Hindu votes in one and a half dozen seats including Balrampur, Kadwa, Pranpur, Kishanganj, but now it seems to be in support of the NDA, the voter class. In some seats like Kadva and Bari, where JDU candidates are weak, Hindu voters are giving a clear message of mobilization in favor of rebellious LJP candidates of BJP.
BJP gets benefit from multi-cornered contest: In the case of multi-cornered contest in Seemanchal, BJP gets its benefit. Due to almost no three-cornered war in the last election, BJP got only six seats in Seemanchal. In that election, JDU got three seats, Congress-RJD 14 and CPI Male one.