New Delhi: Mumbai on Monday, 22 February, the Bombay High Court granted bail to 81-year-old Varvara Rao, one of the accused in the Bhima Koregaon case on medical grounds.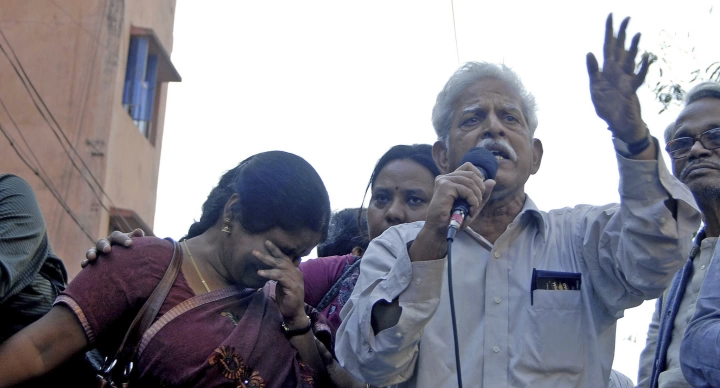 The Ashtadhyayi poet and ideologue has been granted bail for six months on medical grounds due to "advanced age and inadequate facilities in Taloja Jail".
He was imprisoned for two years since his arrest in addition to stents at JJ Hospital and Nanavati Hospital due to various health problems including dementia and COVID-19.
A bench of Justices SS Shinde and Manish Pitale held that it was a "genuine and fit" case to grant relief and that if they do not, "we can do our constitutional duties as defenders of human rights and the right to health" Under. 21. "
The High Court rejected a request by the NIA to stay its order for three weeks to appeal to the Supreme Court.
The order lays down several conditions for Rao's bail, including:
He has to stay in Mumbai and does not relinquish the jurisdiction of the special NIA court;
He will make himself available to the NIA court whenever he is summoned;
He shall not tamper with any evidence nor attempt to influence any witness.
He will submit his passport to the court;
He will not talk to the media about his case.
At the end of the six-month period, Rao can either surrender or request an extension of medical bail. The court, denying his request, allowed him to travel to his home in Hyderabad, calling it a risk.
Rao was represented by senior advocates Indira Jaising and Anand Grover. He had argued that he should be released on bail on medical grounds due to his neurological condition and health problems, for which there were inadequate facilities at Taloja Jail Hospital. He also said that he faced 'cruel and inhuman behavior' in the last year due to a lack of facilities.
The NIA protested Rao's release despite his age, arguing that the case against him was serious and under the UAPA, which he and other Bhima Koregaon accused have not been granted bail. He had said that the facilities at the government-run JJ Hospital were adequate for his treatment if it became any worse.
On 18 November 2020, the Bombay High Court ordered Rao to receive specialist treatment at Nanavati Hospital and assess his health condition. The court then heard a detailed debate on Rao's bail on medical grounds and reserved his order on 2 February.
Rao was arrested for the first time in the Bhima Koregaon case on 28 August 2018. The Pune Police, which was investigating the case a year ago before his sudden transfer to the NIA, had filed a supplementary charge sheet against Rao and some other accused. 21 February 2019.
Rona Wilson, one of the other accused in the case, has filed a petition in the Bombay High Court asking for an independent inquiry into whether the major 'evidence' in the case was put on her computer, a report by US-based Digital Forensics After the firm Arsenal Consulting.
The malware used to do so was allegedly sent to Wilson which appeared in Varvara Rao's email ID, asking him to support a solidarity statement in June 2016.
Was the BHIM KOREGAON case
The Bhima Koregaon case is the biennial celebration of the Bhima Koregaon battle from January 1, 2018. The festival was celebrated due to the death of one person and injuries to many others.
A police investigation into the incident led to the arrest of several activists, who they accused of having "Maoist links". Police allege that they funded the December 31, 2017 meeting of the Elgar Council, where inflammatory speeches were made, leading to violence, according to police. Those arrested on August 28, 2019 included writer and poet Varvara Rao, lawyer and activist Sudha Bhardwaj, academic and activist Vernon Gonsalves, and human rights activists Arun Ferreira and Gautam Navlakha.
What is Bhima-Koregaon?
A small village in Pune district of Maharashtra, Bhima-Koregaon is associated with an important phase of Maratha history. On January 1, 1818, the Peshwa army was defeated by a Dalit-dominated British force led by Peshwa Bajirao II in Koregaon.
This fight achieved a great stature for the Dalits, who consider Mahesh's victory against injustice against the Peshwas.
The pillar, known as the Vijay Stambh (Victory Pillar), was established by the East India Company in memory of those who fought for them in battle. It is on this column that thousands of Dalits come to pay respects on 1 January every year.
What happened in Bhima Koregaon on 1 January 2018?
2018 marked the 200th year of the fighting and hence a larger gathering took place in Bhima Koregaon than in previous years. Violent clashes between Dalit and Maratha groups took place during the ceremony, resulting in the death of at least one person and injuring several others.
Tension began on December 29, 2017, the day Govind Gopal Mahar's memorial was found to be desecrated. The incident was mentioned in the Elgar Parishad, a large public conference organized by Dalit and Bahujan groups on 31 December 2017. Police have alleged that provocative speeches were made in the incident and led to violence the next day.
According to reports, the violence erupted when some groups carrying saffron flags entered the spot.