New Delhi: India today successfully test-fired the land attack version of the BrahMos supersonic cruise missile from the Andaman and Nicobar Islands region on Tuesday (24 November). According to the information, the supersonic cruise missile was aimed at another island, which was successfully fired. For the Indian armed forces, this news will prove to be effective in boosting their enthusiasm. According to ANI, the supersonic cruise missile was tested at 10 am. The strike range of the BrahMos missile now exceeds 400 km. The missile developed by DRDO was tested by the Indian Army.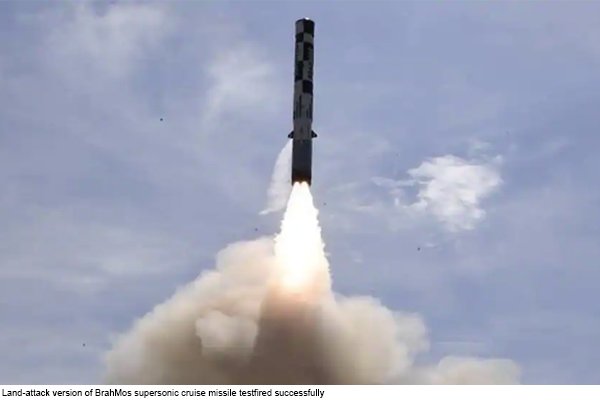 The BrahMos supersonic cruise missile is the fastest operational system in the world in its category and recently DRDO has increased the range of the missile system from the existing 298 km to about 450 km. In the last two months, DRDO has been successful in testing the Shaurya missile system, including several new and existing missile systems, which can carry out unmistakable targets over distances of over 800 km.
Last month, the Indian Navy tested the BrahMos missile from its warship INS Chennai, which demonstrated its ability to strike targets at a distance of 400 km. The BrahMos supersonic cruise missile has become a powerful weapon for all three armed forces. India is also working on finding an export market for the supersonic cruise missile, which DRDO has largely indigenized under its project PJ10.
The Sukhoi-30 fighter aircraft of the Indian Air Force also recently targeted its target in the Bay of Bengal with a BrahMos supersonic missile. For this operation, Sukhoi aircraft took off from Halwara airbase in Punjab. It is also known as the ruler of the Indian Ocean region due to the far reach of the Sukhoi aircraft. This squadron is also equipped with BrahMos cruise missile.
Also read in Hindi: BrahMos: सुपरसोनिक क्रूज मिसाइल का सफल परीक्षण, जमीन, हवा और पानी में कर सकती है दुश्मन को तबाह