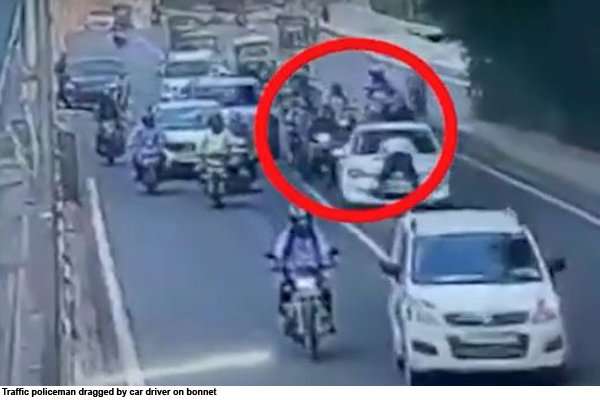 New Delhi: There is a lot of traffic on the road in Delhi, the capital of the country, and in this crowd there are some Dilwale of Delhi who will be seen playing with the dangers. When the traffic policemen tried to stop the player of similar dangers, he tried to park the car on the policeman. His efforts could not succeed, but the poor cop hung on the bonnet of the car to escape. The carman did not take pity on this much, he dragged the policeman on the bonnet of the car to some distance in the middle of the crowds of vehicles. Some distance away, he fell into the side of the traffic policeman's car. Thankfully, he did not suffer any serious injuries.
This shocking incident is of Dhaula Kuan area. A driver of the Delhi Traffic Police, on duty, dragged a car driver far enough to the bonnet of the car. The car's handiwork has been captured in the CCTV camera. Police has also registered an FIR in this case.
Let us tell you that the traffic police personnel tried to stop the car driver who violated the traffic rules, but he did not stop and tried to board the vehicle. The young man jumped on the bonnet to save his life. Despite this, the accused did not stop their car. He dragged the soldier for some distance and later dropped the soldier on the road.
According to the information, the name of the car driver is being told as Shubham, Who has been arrested. An FIR has been lodged against the accused at Delhi Cantt Police Station in South West Delhi.
Also read in Hindi: Shocking: ट्रैफिक पुलिस के जवान को कार चालक ने बोनट पर घसीटा, वीडिया वायरल