28/04/2021
CM visits earthquake-damaged area, 2 people died, more than 20 injured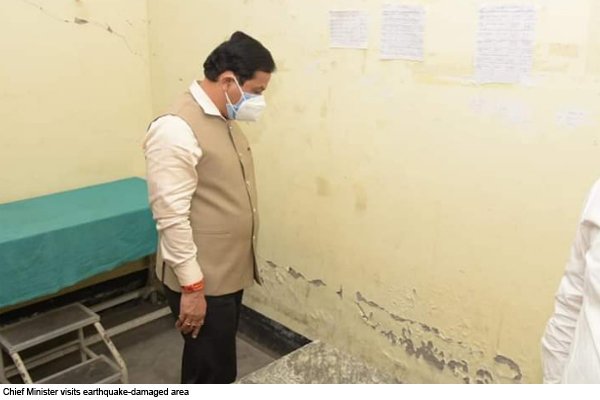 Itanagar: A magnitude 6.4 earthquake that rocked the Assam region this morning, 71 years after the 1950s. A total of four earthquake tremors were felt in Assam at the same time. The first tremor was felt in Assam at 7.51 am. The second earthquake measuring 4.0 on the Richter scale occurred at 8.13 am. At 8.25 and 8.44, Assam was hit by two more mild earthquakes on the Richter scale of 3.8. The epicenter of the quake was reported below the Hagurajuli plateau in the Sonitpur district of Assam. After the earthquake, there are reports of damage from many parts of Assam.
Gas cylinders have been emitted at the AC plant of the Guwahati Doordarshan Center due to the earthquake. The situation was controlled with the help of fire trucks. A terrible atmosphere was created at the Guwahati Doordarshan Center due to several cylinders damaged by the earthquake. The Kei apartment of Guwahati is reported to be damaged.
According to the information received, there was chaos after the earthquake, whose heartbeat stopped and the death toll rose to 2. In Marigaon College hostel, one person was injured and overall the number of people injured in Assam increased to 20. There has been cracks in one of the areas near Rangia, the important railway station of Assam. The earthquake caused major cracks in the Maha Mrityunjaya temple located at Nagaon Veeravi in ​​Assam. A crack has been seen at the top of the 128 feet high temple.
The temple authorities have not yet commented on the matter. Farm and pool cracks occurred in many places. Water has been seen extracting water from the womb. Assam Chief Minister Sarbananda Sonowal visited the most damaged district and monitored the situation. He also thanked the country's Prime Minister Narendra Modi and the Union Home Minister Amit Shah. On the other hand, the most affected district Shonitpur administration issued vigil. The Assam Disaster Management Authority has made public the helpline facility in this case for the State Emergency Operations Center: 1080/1089 and for the District Emergency Operations Center: 108.