13/05/2021
Corona positives people shall vaccinate after 6 months: Government panel recommendations
New Delhi: Vaccination has slowed due to limited supply of Covid-19 vaccines in the country, and people across the country have been unable to book slots on the Covin app. How long can you wait for the first or second dose, and when do you have to take a second dose of vaccine if you are infected with Covid-19 while waiting? Many such questions have often arisen in the minds of people infected with the corona virus.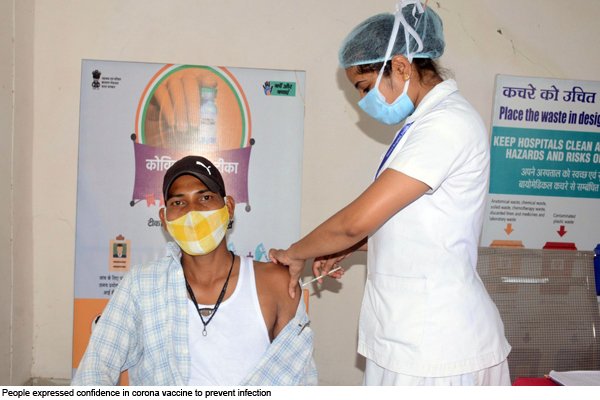 In response to which the government panel has given its recommendation. The government panel says that corona patients should take their first dose of vaccine only 6 months after recovery. News agency has given this information by quoting sources. Meanwhile, bovine manufacturing company Bharat Biotech has been approved for the second clinical trial of vaccines for people between the ages of 2 to 18 years. This approval has been given by the Drugs Controller General of India.
The panel made this recommendation at a time when there is a shortage in supply of Corona vaccine across the country. In many states of the country, vaccination of people between the age of 18 to 44 years has been affected due to this. Earlier in March, the central government had said that the difference between the first and second doses of the Serum Institute of India vaccine should be increased from 28 days to 6 to 8 weeks.
Let us tell you that over 17.7 crore people have been vaccinated with Covishield (AstraZeneca vaccine manufactured by the Ceram Institute of India) or Covaxin (manufactured by Bharat Biotech Limited), out of which more than 39 million have received the second dose.
However, as per initial permission given by the Drug Controller General of India (DGCI), a second dose of Covishield was to be given 4-6 weeks after the first, and a second dose of Covaxin 28 days after the first. The interval was subsequently extended to 4–8 weeks for covicillin and 4–6 weeks for covaxin. In April, the Center advised that a second dose of covishield could be taken 6-8 weeks after the first.
Immunologist Dr. Vinita Bal of the Indian Institute of Science Education and Research (IISER) said that infection-induced immunity is likely to last for a few months, and it would be appropriate to wait 6-8 weeks after recovering. Lead vaccine scientist Dr Gagandeep Kang said that UK data shows that there is 80 per cent protection after natural infection from S. bwt.2 virus. He said that it is also okay to wait for six months. This is in line with the recommendations of the World Health Organization (WHO), which reviewed the data, and said that it would be okay to get vaccinated six months after a corona virus infection, as long as the body is likely to have natural antibodies.
Dr Shashank Joshi, a member of the Maharashtra Covid-19 task force, said if there is a delay in the second dose, there is no need to panic, but do not postpone it indefinitely. For Bwangpad, the difference can be increased to 45 days from the first shot. For Covishield, a second dose may be taken three months after the first dose.
Earlier on the Corona patients, experts had advised that they should not take the vaccine for at least one month. Even though nothing has been said about the new recommendations from the panel, but some people can see this by adding to the shortage of the vaccine. Vaccination has been affected in the last few days in several states including Maharashtra, Delhi.
(With agency input)