13/01/2021
Corona Update: 15,968 daily new cases were reported in the last 24 hours
New Delhi: India has reduced the number of corona-infected patients to 2.14 lakh (2,14,507) today. The number of currently infected patients has declined to 2.04 percent as compared to total infected cases so far, the lowest after 197 days. The total number of infected patients as on 30 June 2020 was 2,15,125. In the last 24 hours, the number of Corona infected patients has reduced by 2,051 cases.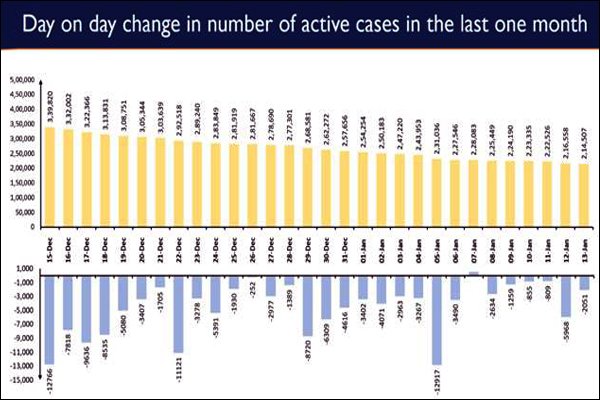 There is a continuous decline in corona cases in India every day. Less than 16,000 (15,968) new cases were added in the last 24 hours. On the other hand, in the last 24 hours, 17,817 patients became healthy. Continuous decline in the number of infected patients has been ensured due to the large number of new patients getting healthy.
The total number of healthy people with corona was 10,129,111, indicating a 96.51 percent rate of infection-free. The difference between the number of healthy people with corona and the number of patients currently infected is steadily increasing, to 99,14,604.
In 10 states / UTs, 81.83 percent of the number of new coronary patients has been found to be healthy.
A maximum of 4,270 patients are healthy in Kerala in a day. This was followed by 3,282 new patients in Maharashtra, while 1,207 patients a day in Chhattisgarh.
74.82 percent new cases of corona have been found in 7 states and union territories.
A maximum of 5,507 new cases were reported daily in Kerala in the last 24 hours. This was followed by 2,936 new cases in Maharashtra, while 751 new cases were confirmed in Karnataka yesterday.
In the last 24 hours, 70.30 percent of the total 202 deaths due to corona have been reported in 7 states / UTs.
50 patients died in Maharashtra. It is followed by Kerala and West Bengal with 25 and 18 new deaths respectively.
The Covid-19 vaccination campaign is scheduled to begin on January 16, 2021. This extensive nationwide campaign, inspired by the principles of people's participation (public participation), uses experience gained from elections (booth strategy) and the Universal Immunization Program (UIP), as well as existing health services, especially national programs and primary health care, scientific and Not compromising regulatory norms, other standard operating procedures (SOPs) and a systematic and smooth implementation driven by technology.
Priority will be given to health care workers and leading workers in Kovid-19 vaccination, which is approximately three crores, followed by those above 50 years of age and patients below 50 years of age. Will be given, which is about 27 crores.
The study of the technology structure will ensure the orderly and smooth implementation of the vaccination campaign.
Today the total number of people infected with the new type of genome found in Britain is 102.