15/03/2021
Corona Update: 7 states including Maharashtra, Gujarat ongoing increase in corona cases
New Delhi: In some states the daily cases of Kovid are increasing rapidly. Maharashtra, Kerala, Punjab, Karnataka, Gujarat, Tamil Nadu and Madhya Pradesh have reported 87.73 percent of new cases in the last 24 hours (25,320). Maharashtra has the highest number of 15,602 new cases reported on a daily basis.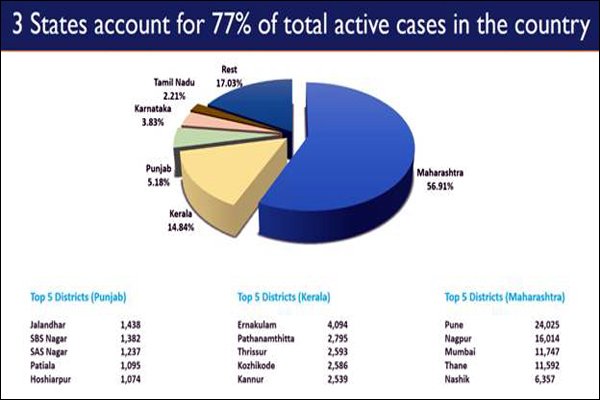 After this, 2,035 new cases were registered in Kerala and 1,510 in Punjab. 8 states are witnessing a steady increase in corona cases on a daily basis. The total active cases (caseloads) of corona in India today are 2.10 lakhs (2,10,544).
Maharashtra, Kerala and Punjab account for 76.93 percent of the total active cases in India. The top five districts in each of these states are shown in the graph below.
India continues the world's largest vaccination campaign. Nearly 3 crore total vaccinations have been done in the country. According to the provisional report received till 7 am today, 2,97,38,409 vaccine doses have been given to people through 5,10,400 sessions in the country.
These include 73,47,895 HCW (first dose), 42,95,201 HCW (second dose), 73,32,641 FLW (first dose) and 11,35,573 FLW (second dose), 14,40,092 suffering from other diseases above 45 years of age. The beneficiary (first dose) and 81,87,007 beneficiaries above 60 years of age are included.
More than 1.5 million (15,19,952) vaccine doses were given on the 57th day of the vaccination campaign (March 13, 2021). Of these, 12,32,131 beneficiaries were given the first dose of vaccine through 24,086 sessions (HCW and FLW) and 2,87,821 were given the second dose of vaccine to HCW and FLW.
The country has seen a steady increase in the number of vaccinations day by day.
India's overall recovery rate today is 1,09,89,897. The national recovery rate is 96.75 percent.
In the last 24 hours, 16,637 people have recovered. 83.13 percent of the new recovery cases are from 6 states.
Maharashtra reported the highest number of 7,467 new cases recovering in a day.
In the last 24 hours, 161 people have died due to Kovid.
The new death cases accounted for 84.47 percent of the six states. Maharashtra had the highest number of deaths of 88 patients. After this, 22 people have died in Punjab and 12 in Kerala.
In 14 states / Union Territories no deaths have been reported from Kovid-19 in the last 24 hours. These states / union territories include Rajasthan, Jharkhand, Puducherry, Lakshadweep, Meghalaya, Daman and Diu, Dadra and Nagar Haveli, Nagaland, Tripura, Sikkim, Ladakh, Manipur, Mizoram Andaman and Nicobar Islands, and Arunachal Pradesh.