18/04/2021
Corona Update: 79 percent of new cases reported from 10 states
New Delhi: As per the world's largest vaccination campaign, the total number of Covid-19 vaccines injected in the country has crossed 12 crore today. According to the provisional report till 7 am today, a total of 11,99,37,641 vaccines have been administered through 17,37,539 sessions. These include 91,05,429 HCW, those who have taken the first dose and 56,70,818 HCW, who have taken the second dose, 1,11,44,069 FLW (first dose), 54,08,572 (second dose) 4 over 60 years of age. , 49,35,011 beneficiaries of the first dose and 34,88,257 beneficiaries of the second dose and 3,92,23,975 (first dose) and 9,61,510 (second dose), aged 45 to 60 years.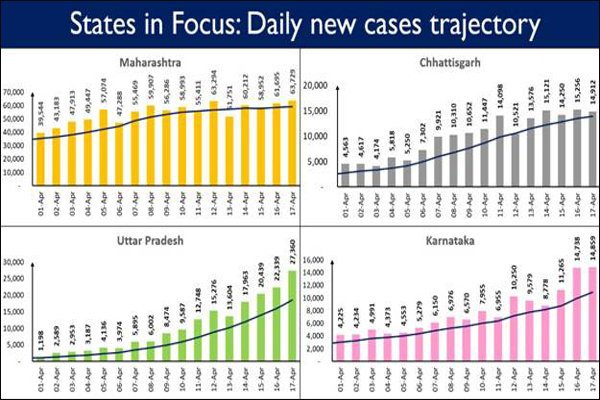 8 states account for 59.56 percent of the total vaccines imposed in the country so far. In the last 24 hours, more than 30 lakh vaccines of Covid have been administered.
30,04,544 vaccines were administered on the 91st day of the vaccination campaign (16 April 2021). Of these, 22,96,008 beneficiaries were vaccinated for the first dose in 37,817 sessions and 7,08,536 beneficiaries received the second dose of the vaccine.
New cases are increasing daily in India. 2,34,692 new cases were registered in the last 24 hours.
An increase in daily new cases of Covid has been demonstrated in 10 states Maharashtra, Uttar Pradesh, Delhi, Chhattisgarh, Karnataka, Madhya Pradesh, Kerala, Gujarat, Tamil Nadu and Rajasthan. 79.32 percent of new cases have been reported from these 10 states.
Maharashtra has recorded the highest number with 63,729 daily new cases. Uttar Pradesh ranks second with 27,360 cases, while Delhi has 19,486 new cases.
The 16 states, as shown below, are showing an increasing trend in daily new cases.
India's total active cases have reached 16,79,740. This is 11.56 percent of the total positive cases in the country. In the last 24 hours, an increase of 1,09,997 cases was reported in total active cases.
The 5 states of Maharashtra, Chhattisgarh, Uttar Pradesh, Karnataka and Kerala account for 65.02 percent of India's total active cases. Maharashtra alone accounts for 38.09 percent of the country's total active cases.
The total recovery in India today stands at 1,26,71,220. The national recovery rate is 87.23 percent.
1,23,354 recoveries were recorded in the last 24 hours.
In the last 24 hours, 1,341 deaths were recorded.
The 10 states account for 85.83 percent of the new deaths. Maharashtra recorded the highest number of deaths (398) while Delhi stood second with 141 daily deaths.
No deaths from Covid have been reported in 9 states / UTs in the last 24 hours. These are Ladakh (Union Territory), Daman and Diu and Dadar Nagar Haveli, Tripura, Sikkim, Mizoram, Manipur, Lakshadweep, Andaman and Nicobar Islands and Arunachal Pradesh.